Hey Days Staff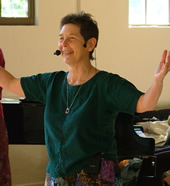 Brooke Friendly (OR), program director, is known for her warm yet commanding personality, her clear and concise teaching, her creativity, and her sense of humor and whimsy. She has a strong sense of what makes for a good community and she makes the learning experience fun and relaxing. A dancer for more than 30 years, she co-leads a weekly English and Scottish dance, teaches ECD callers workshops, calls Contra and family dances, and teaches country dance in a variety of settings: college academic credit, older adults, and K-12 students. Brooke has been on staff at camps, weekends, festivals, balls, and workshops throughout North America and England.
A dance choreographer, she, with her husband Chris Sackett, has published five books of dances (Impropriety Vols. 1-5) and produced six CDs with the band Roguery (Shira Kammen, Jim Oakden, Anita Anderson, and Dave Bartley). Theatre choreography credits include Southern Oregon University Department of Theatre Arts productions of Entertaining Strangers (with Chris), Dancing at Lughnasa, and Caucasian Chalk Circle; and Oregon Cabaret Theatre's world premiere of Parcel from America.
A founding member (1981) of The Heather and the Rose Country Dancers, a statewide organization of English and Scottish dance in Oregon, Brooke is Secretary of the board of the Country Dance and Song Society. Previously, she was on the CDSS board and executive committee for six years (2001-07) and served on the CDSS Youth Task Group.
You can find more information on her books, CDs, and teaching at BrookeFriendlyDance.com.
Brooke will teach two ECD classes and a Callers Workshop. Brooke is our program director for 2017.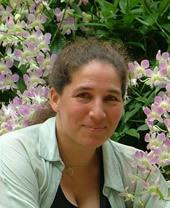 Kalia Kliban (CA) has been part of the California Bay Area traditional dance scene since the mid-80s, performing and teaching in a wide range of styles. At dance camps and festivals across the country she has taught morris, longsword, English and American clogging, English country dance and contra, and she's a regular contra and English caller in the vibrant Bay Area dance community. Her welcoming and relaxed teaching style has helped dancers of all levels experience the joy of traditional dance. Kalia was recently a caller for one of the Country Dance and Song Society Centennial tour stops.
Over many years of attending and teaching at dance camps, Kalia has been collecting games and silly activities to fill the non-dancing hours. For the first time, that collection will have a scheduled slot of its own!
Kalia will teach two ECD classes and lead Disorganized Sports.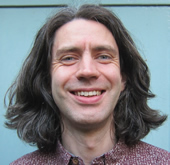 Andrew Swaine (UK) grew up with a folk dance group, started calling English country dance about 20 years ago while at Cambridge University, and has since become one England's best known callers of English country and contra dances, particularly known for his lively approach to Playford dancing. He has undertaken extensive research in Playford interpretation, particularly 17th century dances, and works primarily from original sources. He and Daisy Black founded and organize "Playford in the Pub", an informal dance and music session in Sheffield. He also dances, teaches, and plays for European style "Bal Folk", calls ceilidhs, and leads French dance workshops, and has composed many tunes.
A member of Gog Magog Molly, he has written several of their dances, and defined much of their style during the early years of their existence. He is also a current member of Boggarts Breakfast, a border morris team.
Andrew will teach Zesty Playford, Playford Reconstruction, and play accordion for Molly dance.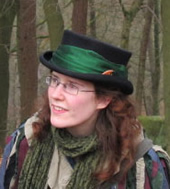 Daisy Black (UK) is an academic, writer, storyteller, dance teacher and theatre practitioner. She is a member of Gog Magog Molly and the border morris team Boggart's Breakfast. She runs the popular and energetic 'Playford in the Pub' sessions in Sheffield, and can be spotted calling ceilidh and Playford dances, Molly dancing and playing a blue-faced fool at folk festivals.
Daisy specializes in medieval mystery drama, and is currently a Research Associate at Swansea University. To date, her academic publications have examined medieval plays dealing with Joseph's skeptical reaction to his pregnant virgin wife, the staging of shipwrecks, cannibalism, and time-travelling trees.
As a theatre practitioner and writer, Daisy has produced creative work for bodies as diverse as the Royal College of Physicians, Manchester Cathedral, and Sheffield's 'Troubadours of the Revolution'. She was recently academic advisor to the 2016 York Mystery Plays, and her dramatic adaptation of the Bayeux Tapestry premiered at Kalamazoo's International Congress.
Daisy also enjoys tea, cake and heavy metal morris dancing.
Daisy will teach Molly Dance and Medieval Mystery Drama.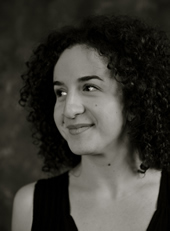 Nicole Singer (MA) sings both traditional and non-traditional folk songs, specializing in maritime music shaped by her experience as a deckhand aboard the schooner Mystic Whaler and as an onboard educator for Clearwater. She recently released her first album, Long Hot Summer Days. Nicole is a co-founder and current organizer of Youth Traditional Song Weekend, a co-author of the CDSS Folk Sing Starter Kit (with Julia Friend), and the Chairwoman of Folk Music and Song sub-committee for NEFFA. She has performed and led singing workshops at many festivals, camps, schools, and colleges in the Northeast, and has sung at house concerts and local participatory sings from Baltimore to Boston and many places in between. She can sometimes be found singing aboard tall ships too. Nicole also enjoys dancing swing, lindy hop, Blues, contra, ECD, and squares. When she's not singing and dancing, Nicole teaches visual art at an elementary school in Amherst, MA. Photo by Kiqe Bosch.
Nicole will teach Sea Songs and a class called Sing Out! Geek Out!, and will lead the daily Gathering.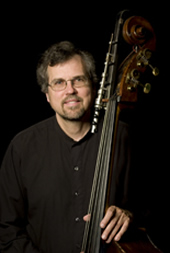 Jonathan Jensen (MD) is an inspired pianist in musical styles ranging from English country and contra to ragtime and jazz. A frequent performer at dance events around the country, he composes brilliant dance tunes and waltzes. When not playing piano at dance camps, Jonathan often fills in on whistle, recorder, ocarina or mandolin and offers his original songs, both silly and serious. He is a member of several dance bands including Reunion and Taylor Among the Devils. Jonathan also plays bass with the Baltimore Symphony and mandolin with the Baltimore Mandolin Orchestra and the Mandolin Quartet.
Jonathan will play for ECD.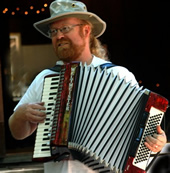 Charlie Hancock (CA) pianist and accordionist, is equally adept playing for English country, Scottish country, contras, and display dancing. Performed with brilliance, drive and clarity, his music is infused with jazz, swing, and Irish influences. He is a member of several Bay Area dance bands, including the Raggedy Annes, and has recorded with Sylvia Herold, Holly Tannen, and Cathie Whitesides.
Charlie will play for ECD and Molly Dance.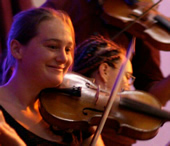 Nicky McConkey (UK) is a talented fiddler, well known (across the pond!) for her energy, drive and magical harmonies. As a frequent and joyful dancer, she has a profound understanding of what makes for the best music to dance to. Equally at home with English ceilidh and country dance, American contra and Scandinavian tunes, she has played at festivals and events all around the UK, including Sidmouth Folkweek, Broadstairs Folkweek, the Inter Varsity Folk Dance Festival, Chippenham Folk Festival, Lichfield Folk Festival, London Barndance, Sheffield Spring Contra, Coventry Zesty Playford, as well as dances in Denmark and the USA. Nicky is a member of several English and contra bands including The Night Before, The Presence, and Minor Contravention.
Nicky will play for ECD and Molly Dance.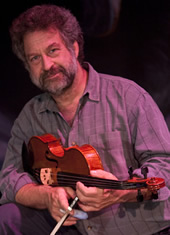 Jon Berger (CA) has played for morris, sword, English country, and contra dance in the San Francisco Bay Area since 1976. Formerly with Berkeley Morris, he now plays for Apple Tree Morris in Sebastopol. Jon also plays in Flashpoint, a Santa Rosa-based contra dance band. He is well known for his powerful music, and, while playing for morris, his ability to maintain a connection between the music, the dancers and the dance. His recordings include two albums with Persons of Quality. Jon is also a former member of Tempest, a Celtic rock band that plays for an entirely different style of dancing.
Jon will play for ECD.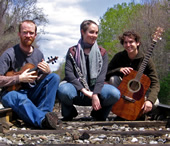 The Figments incorporate an eclectic mix of styles into their inspired performances of music for dancing or listening. Whether grooving on an Old-time, Irish or French Canadian fiddle tune, trading daring improvisations on a gypsy jazz or swing number, or exploring the nuances of a graceful waltz or elegant English country dance tune, this trio of versatile musicians makes dynamic, spontaneous, and electrifying music. Figments features Anna Patton on clarinet, fiddler Ethan Hazzard-Watkins, and Owen Morrison on guitar and feet.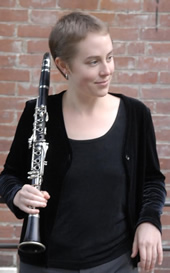 Anna Patton (VT) plays clarinet with great verve, clarity, and harmonic whim. She grew up in a musical family in northern Vermont and was immersed from a young age in an eclectic mix of jazz, classical, traditional and world music. These days she gets to incorporate many of those influences into playing music for different kinds of dancing, including English, Contra, Swing, Balkan folk dance, and improvised dance. Among Figments and other bands and free-lance projects, Anna tours extensively around the U.S. and abroad with the innovative contradance band Elixir. With Elixir and other groups, Anna has been part of the production of seven independently released albums, including a solo album of swing and fiddle tunes for clarinet and string band, titled "Isadore's Breakfast."
Besides performing and recording, Anna teaches aural skills and improvisation at workshop venues like Pinewoods camp, Ashokan fiddle and dance camp, and the Vermont Jazz Center. She especially enjoys leading workshops in the skills of improvising and on-the-fly arranging for dance musicians.
Anna received her Masters in Music from New England Conservatory in 2014 in the conservatory's Contemporary Improvisation program. She lives in Brattleboro VT with her husband, fiddler Ethan Hazzard-Watkins. annapatton.com
Anna will play for ECD and teach Ear Training.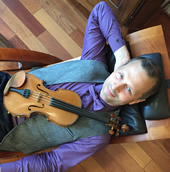 We have had a staffing change. Unfortunately, Ethan Hazzard-Watkins of Figments is unable to make it to Hey Days because he got accepted to a graduate program that starts that week. We are delighted to bring David Knight to replace him. He has worked with the other Figment members and they are excited to play with him.
David Knight (DC) has been instigating dance up and down the East Coast of the United States and beyond since 1991, primarily fiddling in the Scottish, American, and English dance traditions. He also has been known to compose, perform, and record.
He has been featured on four recordings – "Thistle House Live!" (2013), "Ellen Gozion: Awake, Awake" (2004), "More Memories of Scottish Weekend" (2003), and "Waverley Station: First Stop!" (2003). He has produced two collections of his original tunes – "Fleeting" (2000) and "The Art Of…" (2003) – both featuring waltzes, jigs, marches, airs, reels, and Strathspeys.
In addition playing with Waverley Station for English, Scottish, and contra Dancing, David also plays with Callithump! (Glyn Collinson, guitar and voice); Andrew Marcus, accordion); Green Light Karma (Andrew Marcus, accordion; Dave Wiesler, guitar and piano); The Evil Twins (Laurie Fisher on piano, drums, and fiddle); and Thistle House (Dan Emery, flute and pipes; Dave Wiesler, piano). music.davidknight.us.
David will play for ECD and teach the Band Workshop.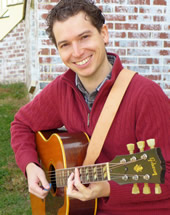 Owen Morrison (MA) has been accompanying fiddle tunes on the guitar for most of his life. He began playing for contra dances at age 15 and he now makes his living playing for many types of dancing. While steeped in fiddle music, Owen has also studied classical, jazz and flamenco guitar, and graduated from Guilford College with a degree in music/classical guitar performance. His lifelong immersion in traditional dance music (as a dancer as well as a musician), coupled with his years of studying classical guitar, give his ECD playing a unique blend of finesse, drive, lift, and beauty.
He has taught guitar styles at Ashokan, Augusta and Pinewoods Camp, and has been a featured performer at many festivals, including the National Folk Festival, LEAF and the Old Songs Festival. His dance bands include Figments, Elixir, Night Watch, House Red and The Morrison Brothers Band. Owen has also worked extensively as an accompanist with fiddlers such as Rodney Miller and Jamie Laval.
Owen will play for ECD and lead a Playford Jam.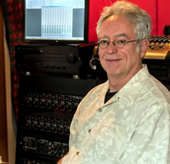 Alan Roberts (WA) will return after doing a great job as sound engineer the past several years. A regular sound engineer at dance events in the Northwest and at CDSS weeks at Pinewoods, he is also a fiddle player and dancer. Aware of the nuances that make us happy, he is able to provide a great experience for callers, band members, and dancers.