Program: Class Descriptions 2017
For details on the schedule, click here.
Click on the links below for details of the 2017 classes.
ECD: Zesty Playford
For dancers of ALL abilities
Andrew Swaine with Nicky McConkey, Jon Berger, Owen Morrison, and Jonathan Jensen
Dance new interpretations of dances from 1651 and the later dances from Playford and beyond, with cracking music, new rhythms, and great dances. There will be opportunity to be quite energetic if you wish.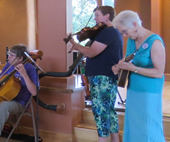 We'll take a look at the considerable additional knowledge we have gained since Cecil Sharp first tried to make sense of this from the 17th century works of John Playford around 100 years ago, roll back a load of misunderstanding and a good deal of complexity that's built up along the way, work out what made them fun then, and see how we might make better use of this amazing heritage in the dances of today.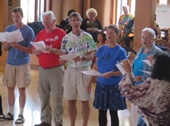 This dance class will complement the Playford Reconstruction class, however, each will be complete on its own. It is fine to take just one of them.
Playford Reconstruction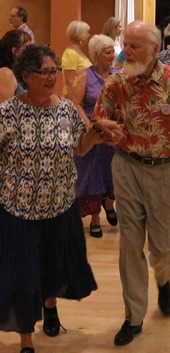 Open to ALL
Andrew Swaine with Nicky McConkey
What do we know about the first publication of English Country Dances; what's our best guess on how they were danced, and why? We'll also look at non-Playford early ECD: dances from manuscripts of English Country Dances dating from the time of John Playford's publications. As well as giving some new dances, these give us insights into how these dances were danced, including alternative descriptions to many of the same dances. Many of Cecil Sharp's interpretations of Playford dances are well established and are arguably a legitimate tradition in their own right – but don't stand up to scrutiny. Knowing what we know now, how might we re-interpret these dances?
The reconstruction class will complement the Zesty Playford dance class, however, each will be complete on its own. It is fine to take just one of them.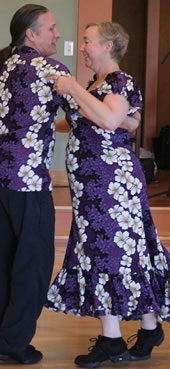 (back to top)
ECD (Adv): Of Elephants and Emperors
(The Reconstructions of Andrew Shaw)

For EXPERIENCED and ACCOMPLISHED dancers
Kalia Kliban with The Figments (Anna Patton, David Knight, and Owen Morrison)
Celebrate the release of Andrew Shaw's newest volume of dance reconstructions (Elephants Stairs) by enjoying a selection of the more challenging dances from this and his previous volumes.
This session is intended to be challenging for intermediate and experienced dancers. You'll need to have a strong sense of personal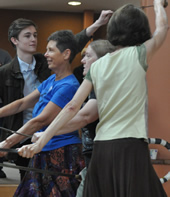 orientation and the ability to learn quickly and recover well. You should also be familiar and comfortable with heys for 3 and 4 in various orientations, triple minor progression, double figure 8s, fast circular heys. These figures are our starting point and will not be taught.
ECD: The Dances of Pat Shaw
For dancers of ALL abilities
Brooke Friendly with Charlie Hancock, Anna Patton, and David Knight
Pat Shaw, 1917-1977, was a man of many talents. An amazing choreographer,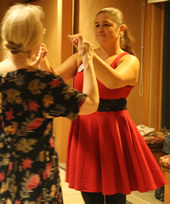 he wrote more than 140 dances in a variety of styles and levels of complexity. He wrote tunes and songs, and played many instruments. He was the first person after Cecil Sharp to study Playford's original wording and offer his own interpretations of dances from the 17th, 18th and early 19th century as well as traditional English dances collected in the early 20th century.
We will concentrate on Shaw's dance compositions, from relatively simple to more complex, and explore a few of his reconstructions.
ECD: Watermelon to Chocolate
For dancers of ALL abilities
Brooke Friendly with Charlie Hancock and Jon Berger
Experience the variety of texture and mood as well as the qualities of movement and phrasing distinct to English country dances old and new: lyrical to boisterous, silly to sublime. We will focus on intermediate level skill building, including interesting variations of basic figures, phrasing, dancing in different ways, various kinds of stepping/footwork, and learning, recovering, and helping.
ECD: Strengthening Your Core
For dancers of ALL abilities
Kalia Kliban with Jonathan Jensen and Jon Berger
Get comfortable with the basic, core figures and formations that make up our ECD repertoire. Strengthen your core as we work on connection, timing, spatial awareness, and the other delicate arts of fine partnering and dancing. This in an opportunity for newer dancers to build skills and for more experienced dancers to build finesse in a relaxed, fun environment.
ECD Callers Workshop
Open to ALL
Brooke Friendly
Current ECD callers of any experience level, those considering a career in ECD calling, and those interested in the process are all welcome. We will spend time on a variety of different topics: working with musicians, teaching style, global terminology, social and community aspects, writing an English dance program, adapting for different audiences, setting goals and intentions, etc. Class will include discussion and opportunities to practice calling.
Molly Dance
Open to ALL
Daisy Black with Andrew Swaine, Charlie Hancock, and Nicky McConkey
Molly dancing is an ancient tradition from the depths of East Anglia, practised by the ploughboys during the winter months in the Fenland villages. Gog Magog Molly was formed in 1996 and is based out of Cambridge. The original dances were the inspiration for their repertoire, which went on to include their own dances (of increasingly fiendish complexity!). Gogs are easily spotted by their colourful attire and carefully un-coordinating faces.
Sea Songs
For singers of ALL abilities
Nicole Singer
Sing maritime worksongs or chanteys, with an additional sampling of foc'sle songs and other maritime music: songs of maritime trades, longshore work, inland waterways, and songs that traveled between genres and eventually onto boats. We will learn about where the songs come from, which chanteys are used for different shipboard tasks, and which parts of the ship we're singing about. We will also discuss some of the issues - and adventures - that shape historic and modern chantey-singing contexts...and of course, we'll sing a lot! There will be lots of opportunities for you to lead songs if you wish.
Sing out, Geek Out!
For singers of ALL abilities
Nicole Singer
Join Nicole for a delightfully nerdy meta-session on social singing and current issues in folk song. You are welcome to bring songs for group singing (songs with choruses or refrains especially appreciated), and Nicole will lead a bunch as well. At each class, we'll pause between songs to discuss themes relating to song performance, repertoire, and the group dynamics of song communities. While instruments are welcome, this class will focus primarily on a cappella singing in the folk-roots singaround context. Notebooks and writing implements may come in handy but are not required. Come sing and geek out!
Playford Jam
For musicians of ALL levels
Owen Morrison
Play dance tunes from the 17th and 18th centuries, while getting ideas for harmonies, rhythmic motifs and accompaniment tools (for all instruments). This will be a mix of slow jam and up to speed playing, some by ear and some with music.

Ear Training for Everyone
For instrumentalists and singers of ALL levels
Anna Patton
For instrumentalists, singers, and curious listeners; a class to sharpen the musical ears. We'll practice aural detective work: the most basic skill behind harmonizing, improvising, composing, and finding chord progressions. The class will be taught entirely by ear, through singing, playing, and listening to recordings. It will incorporate an intuitive, applicable approach to basic music theory. We will practice hearing and reproducing intervals, chords, bass lines, and rhythmic nuances. We'll investigate country dance tunes and other popular and folk idioms - whatever intrigues us, and we'll dabble in the art of stealing musical ideas for our own compositions and improvisations.

Band Workshop

For EXPERIENCED musicians
David Knight
Hone your skills of English Country dance musicianship, exploring how to craft inspiring, danceable music as an ensemble. We will work in small bands to prepare music for campers' night with an emphasis on the big picture of arranging on the fly. We'll explore how to shape the energy of music over the course of a dance using dynamic range, rhythmic emphasis, and different textures and layers of instruments, and practice listening to other musicians and communicating to our bandmates through our playing. This class assumes you can play at dance tempo on your instrument and either read music or play confidently by ear.
Prerequisite: at a minimum you should be familiar enough with your instrument(s) that you can play scales of up to 3 flats and sharps, and you must be able to read music and/or be able to pick up complete melodies by ear.
Medieval Mystery Drama
All experience levels welcome
Daisy Black
Take a practical look at performing one of the medieval mystery plays. Explore plays and their contexts as well as speaking medieval language. You will have a chance to write and perform your own version of a medieval mystery play.
Disorganized Sports
Open to ALL
Kalia Kliban
Come out and play! Each day we'll have a different set of games and activities. Some indoors, some outdoors, and perhaps even in the pool! Opportunities for throwing things, relays, strategy, chair games, word and visual games, and the unclassifiable, such as potato dangling, ghost, cracker whistling, and bite the bag. Bring your willingness to get silly!
The energy level will vary day by day, and you're welcome to drop in and out as needed.
Dance Grab Bag
All experience levels welcome
a variety of staff and campers
A wide range of choices through the week--something different every day!
Music and More Grab Bag
All experience levels welcome
a variety of staff and campers
A wide range of choices through the week--something different every day!
Photo credits from top to bottom: English dance by Michael Siemon, longsword by Julie Grieves, music and singing by Mady Newfield