Hey Days Site and Food
Location and accommodations
The Bishop's Ranch is in the wine country of northern California, 75 miles north of San Francisco. Near Healdsburg, the Bishop's Ranch sits on a sunny hilltop nestled among the forests, farms and vineyards of Sonoma County. The facility has a swimming pool, a beautiful dance hall with abundant natural light, and many lovely spaces for dance and music workshops, jamming, and parties.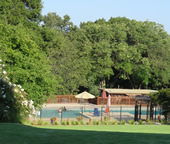 The main dance hall is the air-conditioned Swing Pavilion, a 4,000 square foot meeting hall with a spacious dance floor, a stage area, sound and projection equipment, two raised galleries, window seat areas, abundant natural light, spectacular views, and a full kitchen. The porch and patio adjacent to the building provide inviting outdoor seating and informal meeting space.
The airy and pleasant accommodations at the Bishop's Ranch vary from cottages for four, each with its own living room and en suite bathroom, to double rooms with bathrooms. Linens are provided for all rooms. There are also a few tent sites.
The Bishop's Ranch takes care of many chores for us, including cleaning and dining hall set up, so we don't need all campers to sign up for chores.  We
offer work-trade scholarships for selected chores.
Food
For your culinary pleasure, the Bishop's Ranch staff provides tasty, wholesome food served in the roomy dining hall. The round tables, high ceilings, and large windows with spectacular views provide a relaxing setting for visiting with friends over a delicious meal.
Fragrance-free policy
A significant number of campers suffer from heightened sensitivity to solvents and petroleum products, including perfume and fragrance. To deal with this serious health issue we have a fragrance-free policy, so that we can open the dance floor to everyone. We provide fragrance-free soap, shampoo,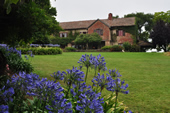 conditioner, and body lotion for all participants to use. The fragrance-free policy gives details on fragrance-free personal items you may want to bring with you.
Pool photo by Mady Newfield; other photos by Julie Grieves