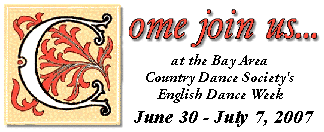 English Country Dance:
Andrew Shaw from England will lead three dance workshops.
Gene Murrow will teach an ECD style class, lead a choreographers' open mic, and teach a band class.
Program Director Brooke Friendly will teach Basic ECD and a workshop for callers on doodling and working with musicians.

Display Dance:
Judy Erickson of Orion Longsword will teach Longsword (Mr. Halpern's), open clog and advanced comparative step dance.
Jane Hecht will teach Northwest Morris and coordinate the Morris tour.

Musicians:
Tricky Brits from Seattle, WA: Anita Anderson (piano, 'noodling' workshop for musicians), Dave Bartley (strings), Sande Gillette (fiddle), and Betsy Cooper (flute). Members of Tricky Brits will also present various short clinics and critique camper band practices.

Noel Cragg will play for display dance.
Eden MacAdam-Somer (fiddle, Singing Technique: Madrigals and Beyond)
Larry Unger (guitar, bass, banjo, mandolin)
Jim Oakden (winds, strings, and more)
Rebecca King (piano, Unlocking the Mysteries of Harmony workshop)
Sound by Nick Cuccia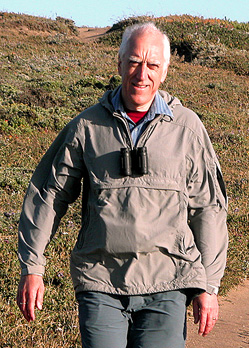 Andrew Shaw
Andrew Shaw, from England, is one of the UK's most sought-after English country dance leaders, widely regarded for his detailed knowledge, high standards, wit and clear instruction with an emphasis on style. Dragged kicking and screaming to his first country dance as a teenager in the 60s, he was quickly enthralled and went on to learn from some of the more fearsome instructors of the day. Later, inspired by his friend and mentor Tom Cook, he developed an enthusiasm for the history and performance of the form. He teaches at weekends and festivals at home and abroad, his own annual dance weekend at Halsway Manor in Somerset, inaugurated in 2001, proving particularly popular. His interest in the dances of the late 17th and early 18th centuries, especially those composed by Nathaniel Kynaston, has resulted in the publication of three dance collections: Mr Kynaston's Famous Dance in 2000, The She Favourite in 2002, and Emperor of the Moon in 2006, this latter also throwing light on the activities of the little-known dancing master Richard Motley. In 2004 he edited The Dances of Brian Wedgbury. He lives in Cheshire where he runs the Lemmings Reprieve Dance Club -- a name that oddly but neatly sums up his belief in the life-enhancing qualities of this dance form.
"His astonishingly detailed background knowledge of the dances, his clear and precise descriptions and his quiet insistence on the best possible performance styles have won him many admirers."
Andrew will teach three ECD classes: dances from the Henry Playford editions of The Dancing Master (c1686-1703); an advanced class on dances from the early 18th century annual collections published by John Walsh (1708-); and The Dutch Connection, a mix of dances old and new with connections to the Netherlands.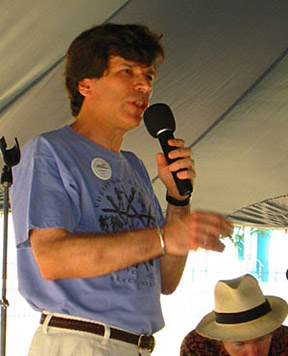 Gene Murrow
Gene Murrow has been an English country dancer and musician since 1965, and has taught and called at clubs, workshops, festivals and balls in the U.S., England and Europe for the last 20 years. In 2006 he appeared at the Southam Gathering and Tring Ball in England and led a series of workshops in Japan. For CDSS, he has frequently chaired Early Music Week, English-American Dance Week, and English Dance Week. In summers 2000 and 2003, he offered a seminar on English Dance Leadership Training in Music at Early Music Week. In addition to oboe and recorders, Gene plays concertina, accordion, and crumhorn. He holds a degree in music from Columbia University with studies at Juilliard, Class of '68. As a member of the dance band MGM, he has made three recordings of dances by Fried Herman and Gary Roodman. He is the producer of the Boston Centre series of English dance recordings featuring Bare Necessities and serves on the Country Dance and Song Society Governing Board. He approaches English country dances as works of art, striving "to make their richness of structure, musical form, texture, and affect enjoyable and appreciated by dancers of all abilities."

Gene will teach ECD: How to Dance Well, lead an ECD Choreographer's Open Mic, and teach a Band Class. The Choreographer's Open Mic is an opportunity for choreographers to test dances and dancers who like to be guinea pigs. The Band Class, for both those who read music and those who play by ear, offers essential techniques for adding the "lift" necessary to inspire the dancers, basic understanding of the wide variety and history of English country dance music, plus useful tips on playing in tune and techniques for adding variety.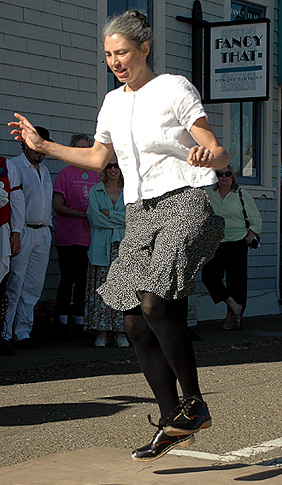 Judy Erickson
Judy Erickson, foreman of the groundbreaking dance troupe Orion Longsword, choreographs sword dances combining traditional steps and figures with innovative elements including Appalachian stepping, jazz and other American styles. In the step dancing world she is an accomplished dancer, choreographer and teacher, blending elements of Scottish, Appalachian, English clog and now French-Canadian step dancing to develop her own steps and styles, both structured and improvisational. In recent years her step dance choreography has been an integral feature of Boston's Christmas Revels. Judy is also a past foreman of Muddy River Morris.

Judy will teach Longsword, English Clog for all, and an Advanced Comparative Step Dance class. The Longsword will be Judy's newest dance, Mr. Halpern's, a laid back single-stepped dance for a set of 8, 9 or 10 dancers. The figures are Continental (tunnels, windows). Judy's open clog will be accessible to novices and interesting to experienced dancers. For the advanced comparative step class, Judy will take a traditional tune that can be played and dance in several different styles: English clog, Quebecois, Scottish hardshoe, Appalachian, and Cape Breton.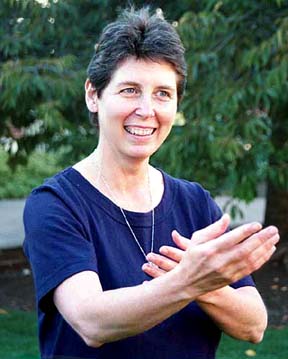 Brooke Friendly
Brooke Friendly, English Week program director, is known for her friendly yet commanding personality, her ability to convey directions concisely and clearly, her creativity and her sense of humor and whimsy. She has a strong sense of what makes for a good community and she makes the learning experience fun and relaxing. Brooke leads a weekly English and Scottish Country Dance in Ashland, Oregon and calls at dances around the US. She was on staff at the BACDS English Dance Week at Mendocino in 2003 and the BACDS Fall Dance Weekend at Monte Toyon in 2006. Impropriety, a book of new English and Scottish dances written in collaboration with her husband Chris Sackett, was published in spring of 2006. Brooke is finishing her second term on the board of directors of the Country Dance and Song Society.

"I adore Brooke's insight and approach" -- Mendocino camper, 2003

Brooke will teach ECD: The Basics and Beyond, a class for musicians, beginning dancers and anyone else who wants to learn, solidify and refine basic ECD figures and styling. She will also lead a Callers' Workshop: Doodling and Working with Musicians. This class will sometimes meet with Anita's musicians' workshop.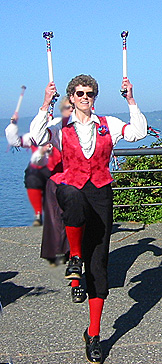 Jane Hecht
Jane Hecht dances on Northwest, Morris and Longsword teams in the Bay Area. She is co-foreman of Bufflehead (a Northwest Morris team). At the first Morris ale she attended, Jane was heard to declare enthusiastically, "I'm going to devote my life to morris dancing!!" That was 1990, and Jane has danced with and been the foreman of a number of Morris teams over the years. She began Morris dancing with Ha'Penny Morris in Boston in 1990. In 1994 she moved to the Bay Area and began dancing a week later with Mayfield Morris & Sword, becoming foreman in 1999. A couple later, she joined Bufflehead and has served as foreman for several years. In addition to these teams, Jane has danced with the Swords of Gridlock, Ring of Cold Steel, the Dead Ringers, Berkeley Morris and has made guest appearances with Goat Hill Morris and Deer Creek Morris. In 2003, Jane performed onstage in the California Revels as the woman morris dancer who challenged William Kemp to a morris jig on his fabled "Nine Daies Wonder" Morris journey from London to Norwich in 1600.

Known for her clear and friendly teaching style, Jane will teach a Northwest Morris dance, as interpreted from Roy Dommett's Morris Notes. The class will also explore creating new Northwest Morris figures as a group. Jane will lead an afternoon Morris 'Grab Bag' in which all Morris (and other display) dancers and musicians at camp are welcome to come teach or learn a new dance and to discuss relevant Morris topics, such as team leadership, recruiting and retention of members. She will also lead the Morris tour in town.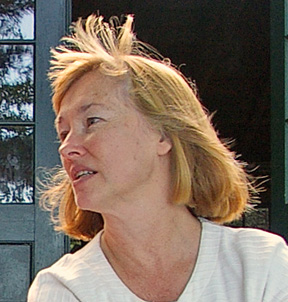 Anita Anderson
Anita Anderson is an extraordinary English country and contra dance pianist, playing with Tricky Brits, Bag o' Tricks and other Northwest bands. She is also a superb dancer, and this informs her playing to the dancers' delight. She brings a large bag of tricks to her piano playing, with influences from do-wop, English, ethnic, and vintage dance music—all in attentive service to the dancers. Her syncopated, harmonically complex use of the keyboard has transported many a listener to Dance Nirvana. Anita is an excellent singer, Scandinavian musician and dancer, and composer of contra and English country dance tunes.

Anita will teach a Musicians Workshop: Noodling and Working with Callers. The class will sometimes meet with Brooke's callers' workshop.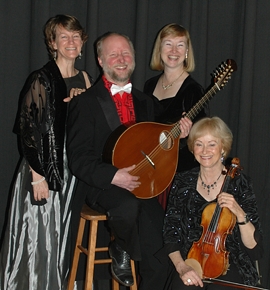 Tricky Brits
The Tricky Brits (Anita Anderson, Dave Bartley, Sande Gillett, and Betsy Cooper) from Seattle, WA In addition to playing for ECD, The Tricky Brits (as a band and individually) will present a variety of band and instrument clinics and coach camper bands.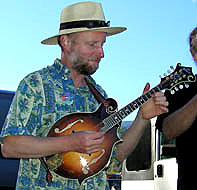 Dave Bartley
Dave Bartley plays mandolin, guitar, cittern and other plucked string instruments. His odyssey from rock guitarist to classical guitarist to eclectic sideman and tunesmith filters through his fingers, making you wonder what he'll do next. Dave performs with Seattle bands Tricky Brits, Bag o' Tricks, and KGB. Former bands include the Greek band Pangeo and a variety of other English country dance bands. He recently played on stage with the Seattle Opera. Just your typical player of English, contra, rock-and-roll, classical and Balkan music on guitar, mandolin and cittern, with all the fiery rhythms and astounding licks such a combination suggests! He is also a prolific dance tune composer.

Sande Gillette
Sande Gillette has both feet firmly in the two worlds of dance and classical music, combining technical skill and raw talent with an all-consuming passion for fiddling. As a dance musician she plays inventive English country dance and contra fiddle with Tricky Brits and Bag o' Tricks. As a classical musician she plays violin in the Seattle Symphony (maybe you caught her at Carnegie Hall with them in February). Her dual lives provide lucky dancers with superb fiddling music. Sande embodies her band's split personality-one moment her instrument sings through an intricate melody in perfect intonation, while a minute later she's sawing through an old-timey classic.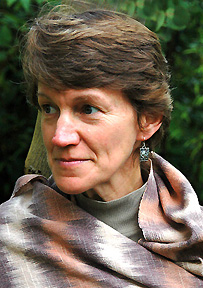 Betsy Cooper
Betsy Cooper has been playing flute for dances for more than twenty years. Her style features a lot of improvisation and harmonizing; she enjoys creating sound that ranges from smooth and lyrical to percussive and driving. Prior to moving to Seattle a decade ago, she joyfully performed with many ensembles at dances and camps from New England to the mid-Atlantic.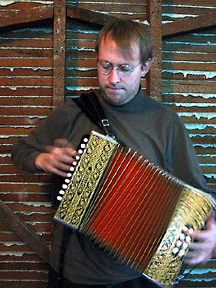 Noel Cragg
Noel Cragg has played a hot squeezebox for Mayfield Morris and Sword and Bufflehead Northwest Morris, and he plays an equally hot piano with the band Midnight Smorgasbord. He is also English Week's beloved answer to Starbuck's.
Noel will play for clog, Northwest Morris and the ECD choreographers' open mic. In addition, he will work with Jane Hecht on the 5th period Morris Grab Bag and the Morris tour.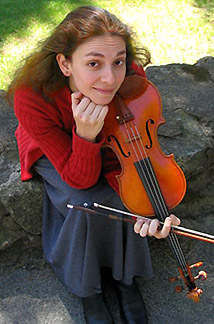 Eden MacAdam-Somer
Eden MacAdam-Somer is one of the most exciting and multitalented young musicians performing today. With roots in classical music she has also grown to love traditional fiddling, jazz, and folk music from around the world. Now, from symphony halls to coffee houses, she beguiles her audiences with a style that is truly her own. Beginning her classical studies at the age of four, it was as a teen that Eden became an active member of the traditional music and dance community. She is a past winner of the MTNA and the Lennox Young Artists Competitions, and has been a featured soloist with symphony orchestras, jazz bands, bluegrass, DAWG and American folk groups. Catch her fiddling and singing with guitarist Larry Unger as the folk/swing duo Notorious, with early-music ensemble Istanpitta, and as violinist in the MacAdam-Somer String Quartet.

Eden will fiddle for ECD and comparative step dance as well as lead a singing technique workshop focusing on madrigals and early music. She will also lead singing cirles on the porch.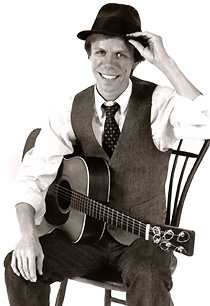 Larry Unger
Larry Unger has been a full time musician since 1984, presenting a diverse range of musical performances at dances, festivals, and concerts across the United States, Canada, France, Scotland, Denmark, and Sweden. He has played for ECD, waltz, swing, or Scottish dances and with many top contra dance bands, including Notorious, Reckless Abandon, Uncle Gizmo, Big Table, and the Reckless Ramblers, and has accompanied such fiddlers as Judy Hyman, Elke Baker, Rodney Miller, Alisdair Fraser, Matt Glaser, Ralph Blizard, Lissa Schneckenburger, and Eden MacAdam-Somer. Larryís original waltzes and fiddle tunes have been played and recorded by musicians around the world. He has a great breadth of understanding of traditional music to complement his considerable technical proficiency and enjoys telling stories about the origins of his music and the people who taught him.

Larry will play for the longsword class.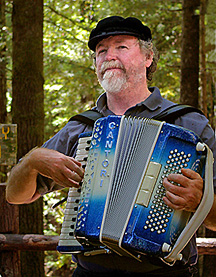 Jim Oakden
Jim Oakden started playing piano and clarinet at an early age and stumbled into early music from the classical music scene. After six years performing early music, he discovered the world of traditional and ethnic music. Having diverse tastes, he has played in many bands and performs on an absurd number of instruments, including accordion, mandolin, several styles of bagpipe, recorders, whistle and zurna (to name a few). A dancer himself, he specializes in playing for dancers in a bunch of bands for ECD, contra, morris, Irish, Breton/French, Greek, Bulgarian. He has been on staff at myriad dance camps throughout the country.

Jim will play for ECD and the longsword class as well as coordinate the back porch gathering.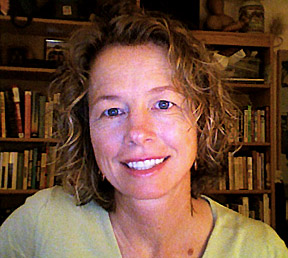 Rebecca King
Rebecca King is a versatile dance pianist whose strong classical training and love of jazz shows in her rhythmic and lyric piano accompaniments. She can be heard playing English and contra dance in the greater San Francisco Bay Area and the North Bay, mainly with the bands Flashpoint and Luceo. By day, she teaches music in the Sonoma Valley schools. She can also be heard on Cowboy Dancing by Ray Bierl, and on BACDS' recent music CD Swinging On The Gate in which she was also executive producer.

In addition to playing for ECD, Rebecca will teach Unlocking the Mysteries of Harmony — a class for both melody and chordal instruments. Learn to use chord symbols and music theory to add beautiful harmonies and accompaniments to melodies.


Nick Cuccia
Nick is highly regarded by dancers, callers, and musicians for the attention that he pays to the needs of those on and off the stage. Nick is the house sound engineer for the San Francisco, Berkeley, and Sonoma contra dances and the Berkeley experienced English dance. His credits as lead or assistant sound engineer include numerous BACDS events and camps. We are delighted to have him return to English Week.