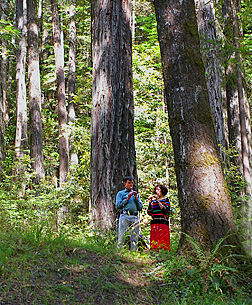 The Mendocino Woodlands camp lies deep in the redwood forest a few miles inland from the town of Mendocino, a four-hour drive north of San Francisco. This secluded, natural setting imparts a special energy that has drawn dancers and musicians for many years.
Throughout the day you'll have ample opportunity for dancing and music-making, but you may still find time for a walk in the surrounding forest or a swim in the nearby creek. At midweek members of the Mendocino Woodlands staff will offer a guided nature excursion, such as a trip to nearby tide-pools or an afternoon hike.
Accommodations at the camp are rustic redwood cabins for two. Each cabin, while without electricity, has its own stone fireplace and carved wood balcony. Bathrooms and showers with plenty of hot water are nearby. The Woodlands has improvements planned for this summer, including a new dance floor.
A significant number of campers suffer from heightened sensitivity to solvents and petroleum products, including perfume and fragrance. To deal with this serious health issue we've instituted a fragrance-free policy, so that we can open the dance floor to everyone. We provide fragrance-free soap, shampoo, conditioner, and hand lotion for camper use at all the bathrooms and hand-wash stations. Further details appear in your camper letter.
Substantial, delectable meals and snacks, with an afternoon teatime to lift flagging energy, satisfy our bodies' needs while our spirits soar with music and dance. The cooking staff sometimes concocts meals to match the day's special events, such as a French touch on Bastille Day, or Cajun food on the day of a Swamp Party.