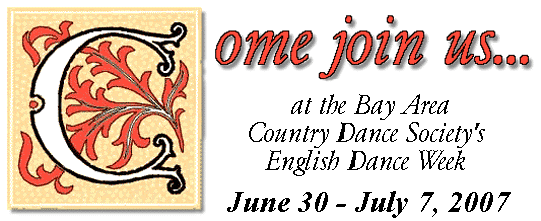 The BACDS English Dance Week offers still another wonderful year at the historic Mendocino Woodlands Camp, near the Northern California coast. Come prepared to participate in a camp experience that has been exhilarating campers for more than 20 years! Spend your days going from class to class beneath the soaring redwoods, learning new skills and polishing old, and spend your nights dancing to glorious music in a hall full of friends. The 2007 staff includes:
English Country Dance

Andrew Shaw from England will lead three dance workshops:
- Dances from the Henry Playford editions of The Dancing Master (c1686-1703)
- Advanced ECD: dances from early 18th century annual Walsh collections (1708-)
- The Dutch Connection: dances old and new with a connection to the Netherlands


Gene Murrow will teach an ECD style class and lead a choreographers' open mic


Program director Brooke Friendly will teach Basic ECD

Display Dance
Judy Erickson of Orion Longsword will teach longsword (Mr. Halpern's), open clog and advanced comparative step dance.


Jane Hecht will teach Northwest Morris, lead a Morris Grab Bag and coordinate the Morris tour.

Workshop for Callers
Brooke Friendly will teach a class for callers on doodling and working with musicians.

Musicians


Music classes


Special Events

Morris Tour
Morris Grab Bag
Choreographers' open mic with Gene Murrow
Gathering before lunch for staff and camper performances
Evening after-dance parties including pub night, ceilidh dance, auction and more
Singing after lunch, before dinner…wherever voices are gathered


---
---
For more information, call camp manager Mary Luckhardt
at (510) 233-5065 or email mary@luckhardt.com
Unless otherwise noted, layout and content Copyright © 2002-2007, Bay Area Country Dance Society. All rights reserved.