Hey Days Staff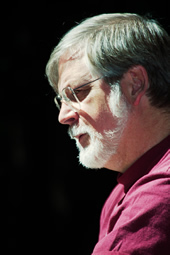 Bruce Hamilton (CA) is a thoughtful and energetic teacher of English and Scottish country dancing. He started dancing in college, and took up teaching in the early '70s. He founded the San Jose English dance and has taught English country dancing for over 30 years, all over the US and abroad. Lately he's been focusing on non-choreographic elements of ECD: how to move well, how to be musical, how to recover from slips, how to be a good partner, body mechanics, and the social and mental aspects. He doesn't teach many new or complex dances (claims he can't remember them!) but instead focuses on skills that apply across all dances. He carries this focus into his sought after callers' classes, which he's done for the last couple of decades. Training ECD teachers is relatively unexplored territory and it's very exciting. Learning to teach takes years, but even in a weekend or week-long mini-course he's been able to point students in useful directions, and some have made great strides. Bruce just finished two terms as president of the Country Dance and Song Society.
Bruce will lead a callers' workshop, and will teach two ECD classes: Back Through the Ceiling and Present and Future Classics.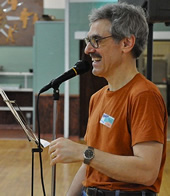 Paul Ross (NY) has done English country dance since 1971, when he joined the University of Chicago Country Dancers under the direction of Pat Talbot. When Pat left, Paul took over the calling. In 1981 he moved to New York City and joined the country dance scene there, serving on the New York Dance Activities Committee, the precursor of CD*NY. His teachers were the master callers of those years, including Genny Shimer, Christine Helwig, Fried Herman, Sue Salmons, Bertha Hatvary. In 1993 Paul became an apprentice caller in Westchester, studying under Christine and Fried. Fried, in particular, has been the major influence on his dancing and understanding and vision of what ECD is. To help preserve that vision and the dances that Fried created, in 2009 Paul founded The Lenox Assembly in Lenox, MA, a dance weekend co-led with Robin Hayden and dedicated to the art of dancing well. You may see some of the results of this effort on his Childgrove YouTube channel.
Paul will teach two ECD classes: A Fried Herman Style Primer and an advanced class called Creative Genius on the dances of Fried Herman and Pat Shaw. Paul will also lead the callers portion of the Open Mic session.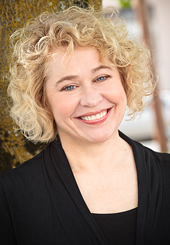 Mary Devlin (OR) has called dances, taught workshops, and appeared at festivals and dance camps throughout the US and in Canada and Europe. She recently taught at the Silkeborg Konvent dance weekend in Denmark. In July 2012 she will teach dance at a weeklong course at Halsway Manor to the music of Paul Hutchinson and John Hymas. Mary teaches English country, contra and square dancing, and she especially enjoys developing and leading workshops designed to enhance dancers' skill and pleasure in dancing. She also loves to work with callers of all levels, from beginner to experienced. Mary has been program director for two CDSS English-American Weeks at Pinewoods and for two BACDS English Dance & Music Weeks at Mendocino. This is her second year programming for Hey Days. She was on the Country Dance and Song Society Governing Board for a number of years and is a CDSS Past-President.
Mary is our program director for 2012. She will also teach ECD Core Curriculum (nuts and bolts of ECD).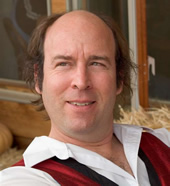 Randall Cayford (CA) has been dancing and teaching various English ritual dance styles for over 25 years. His repertoire includes morris dancing, longsword, rapper sword, Northwest clog, English clog, English country, and contra. He is foreman of Berkeley Morris and founder of two ritual dance teams--Swords of Gridlock (rapper sword) and Bombastic Border. Randall is both an observer and a promoter of the evolution of ritual dance as it adapts from the nineteenth century collected material to fit modern sensibilities of performers and audiences. An active choreographer of new dances and adapter of old dances, he strives to teach dancers and teams how to make the material their own while still keeping a connection to the tradition.
Randall will teach Longsword and Rapper Sword, and will facilitate the Open Display Dance session.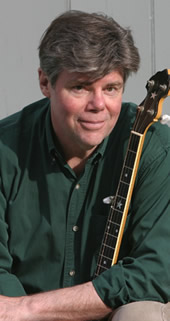 Jeff Warner (NH) is among the nation's foremost performer/interpreters of traditional music. His songs from the lumber camps, fishing villages and mountain tops of America connect 21st century audiences with the everyday lives–and artistry–of 19th century Americans. His songs, rich in local history and a sense of place, bring us the latest news from the distant past.
Jeff grew up listening to the songs and stories of his father Frank Warner and the traditional singers his parents met during their folksong collecting trips through rural America. He accompanied his parents on their later field trips and is the editor of his mother's book, Traditional American Folk Songs: From the Anne and Frank Warner Collection. He is producer of the two-CD set, Her Bright Smile Haunts Me Still, the Warners' recordings of rural singers, many of them born in Victorian times. "The scion of one of the nation's most eminent families of folksong collectors, he represents a tradition that is fundamentally unbroken since preindustrial times" (Stuart Frank, Senior Curator, New Bedford Whaling Museum).
Jeff has performed widely, from large festivals in the UK, to clubs, festivals and schools across America. He plays concertina, banjo, guitar and several "pocket" instruments, including bones and spoons. And "he inhabits a song in a way which few singers can do" (Royal Oak Folk Club, Lewes, UK).
He has toured nationally for the Smithsonian Institution, taught at Pinewoods, Ashokan and Swannanoa summer music programs and recorded for Flying Fish/Rounder, WildGoose and other labels. His 1995 recording Two Little Boys received a Parents' Choice Award. Jeff is a past president of the Country Dance and Song Society, a founding officer of the Folk Alliance, and a producer of the Portsmouth Maritime Folk Festival.
"It was wonderful having you on staff this year. Many people spoke to Molly [Mason] and me and wrote in their evaluations about how much they appreciated your classes, your accessibility, your teaching skills...and the way you wove songs into the week with impeccable taste and timing. We agree with their assessment. Thanks for giving so much of yourself to the week."
—Jay Ungar, Fiddle and Dance Camp, Ashokan, NY
Jeff will teach two singing classes, Songs for the Session and Making a Song Your Own, and will lead the daily gathering. In addition, he will offer several one-shot sessions on playing pocket instruments, including spoons.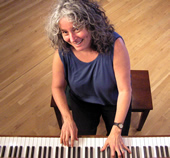 Karen Axelrod (MA) left the world of classical music over 25 years ago, and has found her home in the folk world. She is highly regarded for her creative piano playing at English, American and Scottish dance events around the country (including Pinewoods Dance Camps, Ogontz, Buffalo Gap, Berea Christmas Country Dance Week, The John C. Campbell Folk School, and BACDS events) and abroad.  Her improvisational playing is lyrical, yet is touched with humor and whimsy. Karen is a member of the band Foxfire, with Daron Douglas. She also plays accordion for the renowned longsword team, Orion. In addition to her life as a musician, Karen is a dog walker.  She is trying to complete a marathon in every state and not come in last. Karen used to perform comedy improv with The Villa Jidiots, and loves to teach improv to adults, children, and her canine clients.
Karen will play for ECD and teach an Improv Comedy class.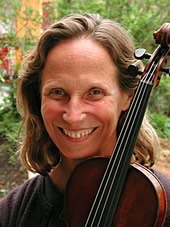 Daron Douglas (LA) is a fine fiddler for American and English dance traditions with a background of a traditional Appalachian upbringing. She brings to the meeting years of living in the mountains, playing Renaissance music, leading contra and English country dance bands, some music school, the spell of New Orleans, and much old-time music making. Daron weaves on her grandmother's loom, fiddles on a violin her father made, and gardens in zone 9...hibiscus, beauty berry, and arugula. This year she's playing French musettes, making music with the dance bands Foxfire and Goldcrest, and working on a recording of the ballads of her great-grandmother (one of Cecil Sharp's informants in the southern mountains). Daron has been on staff at many dance camps nationally.
Daron will play for ECD and Rapper Sword.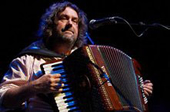 Paul Hutchinson (UK) began his career as an organist and choirmaster. An accordionist, for ten years he led the notorious dance band The Old Pull & Push, leaving to form folk/rock giants IQ40. Paul rejoined the folk world in 1995 as a member of Fieldwork Productions, enjoying international success with Mick Ryan's opera, 'A Day's Work'. In 1997 he teamed up with John Hymas and Tony Harris as Hoover the Dog, and accepted an invitation to join the highly acclaimed Country Rock band Ida Red. As well as leading workshops, Paul also freelances with various bands, features on a number of international releases by North Star Records and when time allows, presents the folk programme on Radio Maldwyn. He currently tours with the duo Belshazzar's Feast.
Paul will play for ECD and lead the Slow Jam. He will also offer occasional accordion master classes.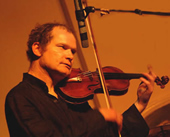 John Hymas (UK), composer, performer and teacher, has worked as a professional musician for most of his life. Since moving to the Welsh borders he has written scores for Diversions Dance Company, Theatr Powys, Bisyoc, Presteigne Festival of Music and the Arts and numerous community projects. John is principal composer and violinist with acclaimed folk crossover bands Hoover the Dog and Big Top. He also plays violin and accordian with roots favourites, Little Rumba. His music was recently used for the BBC's Imagine series.
He has over ten years of experience working in schools and with young people of all abilities.  He specialises in mixing composition and instrumental ensemble work, encouraging participants to make contributions towards the goal of performing a piece constructed during a workshop or series of workshops. For the last 10 years he has run Sheep Music's highly respected youth music programme Black Sheep White Sheep and has led school workshops for the Mid Wales Chamber Orchestra.
John will play for ECD and lead the Band Workshop.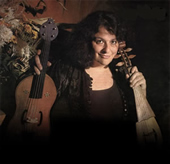 Shira Kammen (CA), a multi-instrumentalist (primarily violin, vielle, and viola) and vocalist, has spent most of her life exploring the worlds of early and traditional music. A member for many years of the early music ensembles Alcatraz, Project Ars Nova, and Medieval Strings, she has also worked with Sequentia, Hesperion XX, the Folger and Newberry Consorts, Anonymous 4, the Boston Camerata, the Balkan group Kitka, and the Oregon, California and San Francisco Shakespeare Festivals. Shira is the founder of Class V Music, an ensemble dedicated to performance on river rafting trips. She has performed and taught in the United States, Canada, Mexico, Europe, Israel, Morocco, and Japan, and on the Colorado, Rogue and Klamath Rivers. Shira happily collaborated with singer/storyteller John Fleagle for fifteen years, and performs now with many ensembles, among them the English Country Dance band Roguery. Shira has recorded many albums in a variety of styles of music and has played on several television and movie soundtracks, including 'O', a modern high school setting of Othello and ''The Nativity Story'. Some of her original music can be heard in an independent film about fans of the work of JRR Tolkien. The strangest place Shira has played is in the elephant pit of the Jerusalem Zoo.
Shira will teach the Musicians' Course and play for ECD.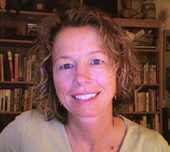 Rebecca King (CA) is a versatile dance pianist, conductor, and composer, whose strong classical training and love of jazz shows in her rhythmic and lyric piano accompaniments. She plays English and Contra dance in the greater San Francisco Bay area, often with the bands Flashpoint and Luceo. Rebecca has been on staff at west coast dance camps and at Pinewoods. By day, she teaches music in the Sonoma Valley schools. Rebecca can be heard on Cowboy Dancing by Ray Bierl, on BACDS' CD Swinging On The Gate in which she was executive producer, and on Farnicle Huggy, Andrew Shaw's 4th collection of 18th century English country dances.
Rebecca will play for ECD and lead the musicians portion of the Open Mic session.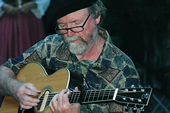 Jim Oakden (CA) started playing piano and clarinet at an early age and stumbled into early music from the classical music scene. After six years performing early music, he discovered the world of traditional and ethnic music. Having diverse tastes, he has played in many bands and performs on an absurd number of instruments, including accordion, mandolin, several styles of bagpipes, recorders, whistle and zurna (to name a few). A dancer himself, he specializes in playing for dancers in a bunch of bands for ECD, contra, morris, Irish, Breton/French, Greek, and Bulgarian. He has been on staff at myriad dance camps throughout the country. His recordings include Farnicle Huggy, an album for Andrew Shaw's reconstructions of 18th century English country dances and three volumes of Impropriety with the band Roguery.
Jim will play for ECD and Longsword.
David Newitt (CA) is our sound engineer for the week. He plays fiddle and concertina, dances ECD, Scottish, and display dance, and is a caller, all of which add to his expertise on the soundboard.