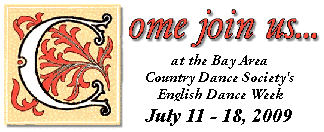 English Country Dance:
• Philippe Callens will lead ECD: Pleasures of Terpsichore—Dancing with Style; ECD: Forgotten Treasures of the 17th and 18th century; and a workshop on Notation and Reconstruction of ECD
• Brad Foster will teach a Survey of 20th Century ECD as well as a session of his Favorites from ECD repertoire; he will also host a Callers' Forum
•Brooke Friendly and Kalia Kliban will be guest callers for some of the evening dances.

Display Dance:
• Julie James will teach Border Morris and Cotswold Morris jigs.
• Matthew Duveneck will teach Cotswold Morris; he will also lead a daily waltz workshop.

Couple Dance:
• Matthew Duveneck will lead a daily waltz workshop.

Art Is Happening:
•When you're not dancing, art will be happening every afternoon with Judy Rose Dornbush.

Musicians:
•Anita Anderson (piano; Playing Backup)
•Dave Bartley (strings; Ensemble Playing)
•Jon Berger (fiddle, melodeon)
•Daron Douglas (fiddle; Playing Harmony)
•Charlie Hancock (piano)
•Eden MacAdam-Somer (fiddle, Playing Melody)
•Jim Oakden, program director (winds, strings, and more)
•Larry Unger (guitar, bass, banjo, mandolin; Camper Band, Tune Writing)
Sound by Adrienne Simpson and Bob Felch
Cuisine by Tod Nysether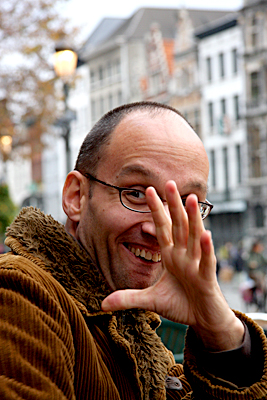 Philippe Callens
Philippe Callens (Belgium) is internationally known as a dance leader of English country dancing and other styles. A native of Belgium, he has been active in the dance community for more than 25 years, teaching, publishing, calling and composing, and has called all over the U.S. for the last ten years. He combines high quality dancing with enjoyment. He has authored numerous publications including three volumes of English country dances and a recording in collaboration with the bands A Joyful Noise and Hold the Mustard.
Philippe will lead ECD: Pleasures of Terpsichore—Dancing with Style; ECD: Forgotten Treasures of the 17th and 18th century; and a workshop on Notation and Reconstruction of ECD.
- - - - -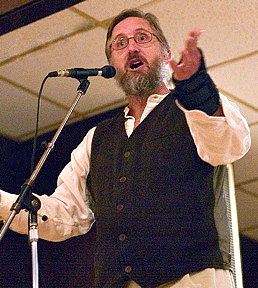 Brad Foster
Brad Foster (MA) has danced and taught English country, contras and squares, and morris and sword for more than 40 years. He is well known for sharing the joy found in dance, and has taught throughout the US, Canada and Europe, including at Berea, Pinewoods, Mendocino, John C. Campbell Folk School and Augusta. He is Executive and Artistic Director of the Country Dance and Song Society, a post he has held for almost 25 years. He is also a founder of the Bay Area Country Dance Society as well as co-founder of their Mendocino English and American dance weeks.
Brad will teach a Survey of 20th Century ECD as well as a session of his Favorites from ECD repertoire. He will also host a Callers' Forum.
Brad's photo here was taken by Marty Stock.
- - - - -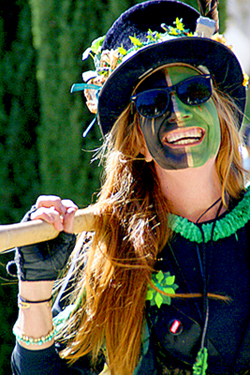 Julie James
Julie James (CA) was an international folk dancer in her youth. She later found English country dance, then Morris, and never looked back. A deep love and respect for these dance traditions has grown through the years of performing with Barleycorn Country Dancers, Sixpence Morris & Sword, then with the Los Angeles women's side Pennyroyal Morris for nine years (seven of which she served as foreman). Upon introduction to border, and with failing knees from too many years dancing Cotswold, in 2000 Julie formed Wild Wood Border Morris, now known nationwide for performing complex, fun dances with an emphasis on precision and exuberance. Shunning the "Yell loudly and carry a BIG stick" philosophy, Julie teaches innovation and accuracy while emphasizing tradition. With this foundation, the strengths of Border Morris can be built upon, performing both modern and traditional dances that are powerful and unusual, but with the good humor and energy inherent in the tradition.

Julie will teach Border Morris and Cotswold Morris Jigs.

Border Morris is an exciting, vigorous dance form that mainly requires stamina, plus a degree of bravery in order to comfortably dance across the set from another person wielding a very large stick. With little in the way of written history, border is free to experiment and interpret within the framework of tradition, and many extraordinary dances have been written in the past few decades. We'll begin with some of the old traditional dances, then move on to some of the best of the modern dances.

Cotswold Morris Jigs are dances performed by from one to three dancers, emphasizing solo abilities and strengths with a fun, competitive feel. Experienced morris dancers, and other enthusiastic, confident dancers, will learn a range of jigs and jig styles—perfect for providing variety and rounding out a team's repertoire, for stretching ones own ability and experience, and for increasing the opportunities for dance.

- - - - -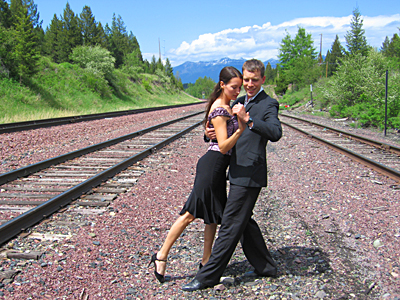 Matthew Duveneck
Matthew Duveneck (ME) grew up folk dancing, and began Morris dancing at age 13, inspired by generations of folk dancers in his family. Passionate about dance, Matthew manages to find a fine balance between his love for Morris dance and Argentine tango. During the last ten years he has focused much of his creative energy on couple dancing and can often be found at tango milongas in various cities of the U.S., Canada and beyond. Over the years Matthew has been a member of four different Morris teams and currently dances with the Marlboro Morris Men. He teaches couple dance workshops nationally, focusing on Argentine tango and waltz. During the last few years he has taught at the Stanford Waltz Week, Bates College Argentine Tango Club, Pinewoods, John Campbell Folk School, Augusta Dance Camp and Timber Ridge. He is also the cofounder/director of the informal music dance party Ciderfest.

Matthew will teach Cotswold Morris; he will also lead a daily waltz workshop.

- - - - -


Judy Rose Dornbush
Judy Rose Dornbush (CA) was bedazzled as a child by sparkly papers, rainbow pencils, color-filled tubes and long-stemmed pointy brushes at art supply shops, and determined to learn how to mess with it all when she grew up. Following a career on the faculties of numerous universities and colleges, she established her independent school, 'art is happening', where, for the past twenty-ish years, she has been enchanting Marin County people of all ages with that myriad of wonderful, messy stuff ... that is, when she's not dancing.

Judy Rose will lead camper warm ups and facilitate Art Is Happening. Create unique stationery: greeting, gift and post cards. We will design and, using a printing press, will print a small edition. We'll play with paper marbling techniques and sketch one-of-a-kind "wish you were here" postcards en plein air.

- - - - -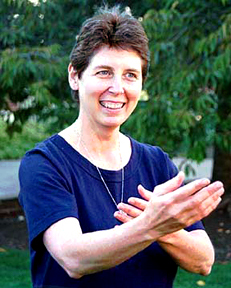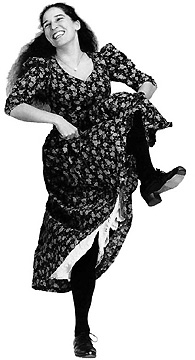 Brooke Friendly and Kalia Kliban
Brooke Friendly (OR) and Kalia Kliban (CA) will provide some evening dance party calling. Brooke is known for her choreography, concise calling, and sense of whimsy. Kalia's clear and humorous teaching style will get your feet tapping.
- - - - -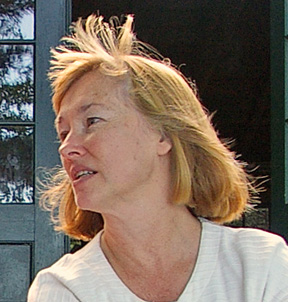 Anita Anderson
(WA) is an extraordinary English country and contra dance pianist, playing with Tricky Brits, Bag o' Tricks and other Northwest bands. She is also a superb dancer, and this informs her playing to the dancers' delight. She brings a large bag of tricks to her piano playing, with influences from doo-wop, English, ethnic, and vintage dance music--all in attentive service to the dancers. Her syncopated, harmonically complex use of the keyboard has transported many a listener to Dance Nirvana. Anita is an excellent singer, Scandinavian musician and dancer, and composer of contra and English country dance tunes.

Anita will play for the waltz class and an ECD class and will teach Playing Backup.

- - - - -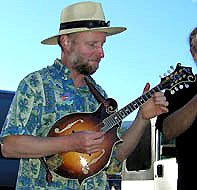 Dave Bartley
Dave Bartley (WA) plays mandolin, guitar, cittern and other plucked string instruments. His odyssey from rock guitarist to classical guitarist to eclectic sideman and tunesmith filters through his fingers, making you wonder what he'll do next. Dave performs with Seattle bands Tricky Brits, Bag o' Tricks, and KGB. Former bands include the Greek band Pangeo and a variety of other English country dance bands. He recently played on stage with the Seattle Opera. Just your typical player of English, Contra, rock-and-roll, classical and Balkan music on guitar, mandolin and cittern, with all the fiery rhythms and astounding licks such a combination suggests! He is also a prolific dance tune composer.

Dave will play for ECD classes and teach Ensemble Playing.

- - - - -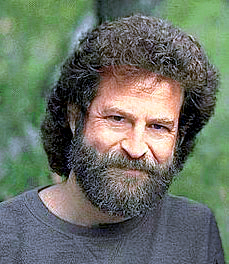 Jon Berger
(CA) has played fiddle and concertina for Morris, English country, and contra dances since 1976. Formerly with Berkeley Morris, he now plays for Apple Tree Morris in Sebastopol. Jon also plays in Flashpoint, a Santa Rosa-based contra dance band. He is well known for his powerful music, and, while playing for Morris, his ability to maintain a connection between the music, the dancers and the dance (not to mention his sense of humor, and grand singing voice). He is a regular musician at Bay Area and North Bay English country dances. Jon is also a former member of Tempest, a Celtic rock band that plays for an entirely different style of dancing.

Jon will play for the display dance classes.

- - - - -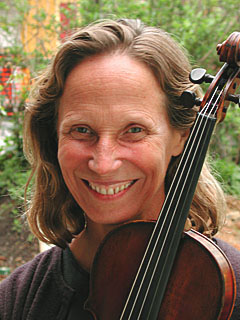 Daron Douglas
Daron Douglas (LA) is a fine fiddler for American and English dance traditions with a background of a traditional Appalachian upbringing. She brings a rich repertoire of songs from her great-grandmother, one of Cecil Sharp's informants in the southern mountains. Daron plays with several groups including Firefox, Goldcrest, Misbehavin', and Hominy Mamas. She has been on staff at many dance camps nationally and now lives and plays music in New Orleans (where she is also a professional weaver).

Daron will play for ECD classes and teach Playing Harmony.

- - - - -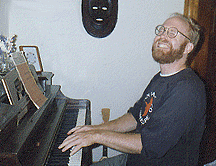 Charlie Hancock
Charlie Hancock (CA) plays piano and accordion for contra, swing, English, and Scottish country dancing. He has played for BACDS dances, camps, and balls for more than 15 years, with occasional gigs further afield, including Pinewoods American English week and the Portland (OR) English ball. He is also a member of the Bay Area folk ensemble Euphonia, and has recorded with Shira Kammen, Sylvia Herold, Holly Tannen, Ray Bierl and Cathie Whitesides.

Charlie will play for ECD classes.

- - - - -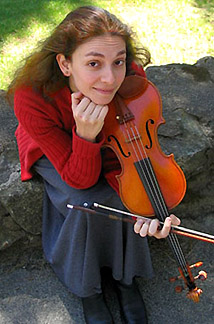 Eden MacAdam-Somer
Eden MacAdam-Somer (MA) is one of the most exciting and multitalented young musicians performing today. With roots in classical music she has also grown to love traditional fiddling, jazz, and folk music from around the world. Now, from symphony halls to coffee houses, she beguiles her audiences with a style that is truly her own. Beginning her classical studies at the age of four, it was as a teen that Eden became an active member of the traditional music and dance community. She is a past winner of the MTNA and the Lennox Young Artists Competitions, and has been a featured soloist with symphony orchestras, jazz bands, bluegrass, DAWG and American folk groups. Catch her fiddling and singing with guitarist Larry Unger as the folk/swing duo Notorious, with early-music ensemble Istanpitta, and as violinist in the MacAdam-Somer String Quartet.

Eden will play for the waltz class and an ECD class and will teach Playing Melody.

- - - - -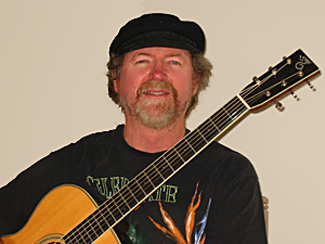 Jim Oakden
Jim Oakden (CA) started playing piano and clarinet at an early age and stumbled into early music from the classical music scene. After six years performing early music, he discovered the world of traditional and ethnic music. Having diverse tastes, he has played in many bands and performs on an absurd number of instruments, including accordion, mandolin, several styles of bagpipes, recorders, whistle and zurna (to name a few). A dancer himself, he specializes in playing for dancers in a bunch of bands for ECD, contra, morris, Irish, Breton/French, Greek, and Bulgarian. He has been on staff at myriad dance camps throughout the country.

Jim is the program director for English Dance and Music Week. He will also play for ECD classes.

- - - - -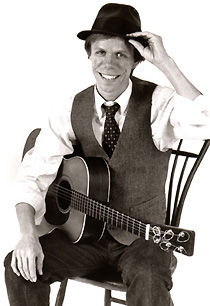 Larry Unger
Larry Unger (MA) has been a full time musician since 1984, presenting a diverse range of musical performances at dances, festivals, and concerts across the United States, Canada, France, Scotland, Denmark, and Sweden. He has played for ECD, waltz, swing, or Scottish dances and with many top contra dance bands, including Notorious, Reckless Abandon, Uncle Gizmo, Big Table, and the Reckless Ramblers, and has accompanied such fiddlers as Judy Hyman, Elke Baker, Rodney Miller, Alisdair Fraser, Matt Glaser, Ralph Blizard, Lissa Schneckenburger, and Eden MacAdam-Somer. Larry's original waltzes and fiddle tunes have been played and recorded by musicians around the world. He has a great breadth of understanding of traditional music to complement his considerable technical proficiency and enjoys telling stories about the origins of his music and the people who taught him.
Larry will play for the waltz class, lead the Camper Band, and teach Tune Writing.
- - - - -

Adrienne Simpson and Bob Felch
Adrienne Simpson (CA) and Bob Felch (CA) are the sound engineers for the week. They apprenticed under sound guru Marty Brenneis, and will bring their technical expertise and refined artistic sensibilities to the sound board.

- - - - -