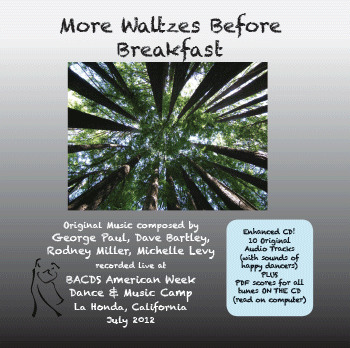 Recorded by Marty Brenneis & Eric Black
Produced by Eric Black
We have a wonderful tradition at the BACDS American Week Dance & Music Camp, held each summer in the redwoods of Northern California. Staff and camper musicians just can't get enough of the beautiful music and sheer enjoyment of playing together. A large group gets up early (or stays up late!) to play waltzes in the dining hall for the dancing and listening enjoyment of those waiting for breakfast to be served. Traditional old-time music has "Whiskey Before Breakfast"; this year we present our second CD, More Waltzes Before Breakfast.
Once again, on the last two mornings of camp, we recorded the early morning waltz music. No special setup, no studio silence, no meticulous rehearsals, no retakes. This recording captures the magic of the moment, complete with the sounds and respectfully quiet enthusiasm of the dancers waltzing in the camp dining hall before and during breakfast. Join us as we float spell-bound, enraptured by the beautiful waltz tunes, every one an original composition by one of the musicians performing.
BONUS! This enhanced CD includes the sheet music score for all tunes on the CD as PDF files. Pop the CD into your computer, and print the PDF files to have sheet music for all these beautiful waltzes.
This CD has three purposes: to capture and disseminate several new waltz tunes never recorded before; to provide AmWeek campers with a memory they can share with family and friends; and to help raise money for the camper scholarship fund. Thank you for purchasing this CD!
And by all means, please join us at camp! BACDS conducts three week-long dance camps each summer, three weekend camps and regular evening dances throughout the year. Information about all BACDS camps and events is available online at http://www.bacds.org