Twenty Country Dances from the Year

1718


---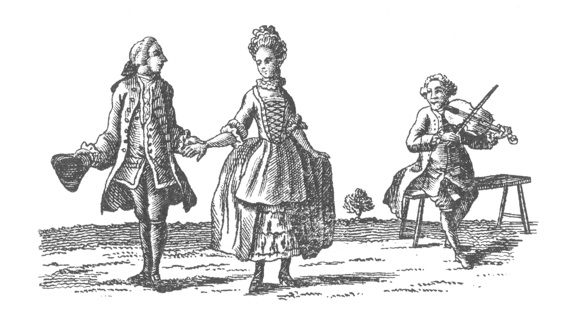 ---
George I is on the throne. Both John Walsh and the old Playford house publish "Compleat" collections,
and Walsh publishes two sets of 24 new dances, one by Nathaniel Kynaston and one by A Person of Quality
English country dancing is all the rage, and new tunes and dances are everywhere.

November 17, 2018

Hillside Club
2286 Cedar Street, Berkeley, California

Dancing 6:30-10:00

EXPERIENCED DANCERS ONLY
The ball is sold out and has a wait list. If you register your check will be held until the wait list clears enough for you to be admitted.

Dance Leaders:Kalia Kliban, Sharon Green, Mary Luckhardt, Graham Christian

Music by Shira Kammen (violin), Judy Linsenberg (recorders), Alexa Haynes-Pilon (viola da gamba), Katherine Heater (harpsichord).

---
---
A message to ball attendees from Mary Luckhardt
Welcome to the 1718 Ball! This project has been a hare-brained idea and a labor of love for several of us for over a year. Kalia, Sharon, Graham and I are so excited to see it coming to fruition, and are gratified that so many connoisseurs of this period will be in attendance.
The music will be fantastic! Shira and Judy have put together a group of musicians they like to play with in the early music community. They will be joined by Katherine Heater on harpsichord and Alexa Haynes-Pilon on viola da gamba, so we will have a very baroque sound. David Newitt will make them sound audible, they will sound wonderful all on their own.
The ball will be one walk through for the most part, but the set dances are mostly a reminder and go, especially Farnicle Huggy, Dunrobin Castle and King's Maggot. There will be some old favorites, some vaguely familiar, and a few relatively unknown longways. Remember, in this period everything was triple minor, so those roots often show, or we are doing them in their original triple minor formation. The 3 couple sets are just modifications so everyone gets to be active.
A quarter of our attendees are from 300 or more miles away. We have 16 visitors from every region of the country, all with impeccable dance credentials. The local dance community has stepped up beautifully to welcome them in every way. At the ball, please be sure to mingle. The stranger who asks you to dance may be your next favorite partner. It will also be delightful to welcome back some former residents who are attending.
Our open rehearsal is on November 10 at Christ Church, Berkeley, the regular hall for Berkeley dances, at 2138 Cedar St, near Oxford, 2-5 pm. The Peninsula workshop was at the Carriage House o, a very small hall in Atherton on Sunday 10/28, , also 2-5. Sebastopol will be Sunday, November 11, 2-4:30 at Wischemann Hall, their usual location. We ask that only attendees and waitlisted attendees come to these workshops so they are not overcrowded and we can build on the work we have already put in and not have to start from scratch.
Period dress will certainly be admired, but dressy dance wear will be most acceptable. Even your dance leaders will not all be in period attire. Be sure your shoes are comfortable. The floor should be nice for dancing, not too fast or slow.
The program in ball order
Mary's Set
Paul's Alley
Kill Him with Kindness
Trip to Holy-Well
Black and Grey
Fop's Fancy

Kalia's Set
Well Done Jack
Farnicle Huggy
Surprise
MacDonald's March
Surprise

Break

Graham's Set
Apollo and Daphne
Mrs. Hill's dance
The Pursuit
Jolly Company
Dunrobin Castle

Sharon's Set
Mrs Savage's Whim
Maid's Last Wish (if time permits)
King's Maggot
Old Maid in Hopes
Surprise