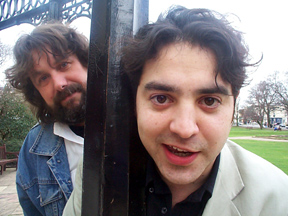 Belshazzar's Feast
Since the Pauls Hutchinson and Sartin paired up in 1995, their performances -- concerts, ceilidhs, and dances -- have been featured on radio and TV, at clubs, dance halls, festivals, and dance camps throughout the UK, Germany, and the US. Their recordings include Mr. Kynaston's Famous Dance, The She Favourite, and John Playford's Secret Ball. A BBC Radio 2 review said of their performance at Sidmouth in 2001, "Paul Hutchinson and Paul Sartin play like no one else you've ever heard. Their music is breathtaking and wickedly inventive…" It is a rare treat for us to have Andrew and the two Pauls together at camp.
Paul Hutchinson graduated from church organ to accordion without ever looking back. He founded the celebrated dance band Old Pull and Push, which helped start up and played at many of the UK's premier folk festivals. His unique style means that his fingers get little rest, with a busy schedule that includes playing for dances, session work, concerts, and workshops. Paul has played with the acclaimed country rock band, Ida Red, among many others, and is currently a member of the ceilidh band, Cwm Dancing, and the celtic/jazz band, Hoover the Dog, along with Belshazzar's Feast. Paul's accordion -- and his sense of humour -- make him a favorite with dancers and concertgoers alike.
Following a spell inside the Purcell School of Music, Paul Sartin took up a choral Scholarship to Magdalen College, Oxford. This led to five years with the Cathedral Choir of Christ Church, Oxford. Along with his freelance performing and session career he works with the English traditional ensemble, Doctor Faustus, and with the a cappella quartet, Mouth and Trousers. Paul also teaches, facilitates workshops, produces records, is Performance Consultant and Tutor for the National Youth Folklore Troupe of England, and is Consultant and Conductor of the Andover Museum Loft Singers. We'll hear Paul playing oboe and violin and singing with Belshazzar's Feast, and encounter his wicked sense of humour.
George Penk
A fine English country, contra, and display dance fiddler, George is delighted to be back playing at Mendocino. George is a mainstay of the dance scene in the Pacific Northwest, playing with Jigsaw, Full Circle, and in many other configurations. He can be heard with Jigsaw on Cutting up the Floor and on A Portland Selection with Susan Songer and Clyde Curley. George will be playing for display dance and country dancing, and his energetic, inventive playing is sure to keep feet flying.