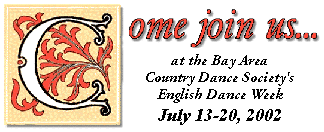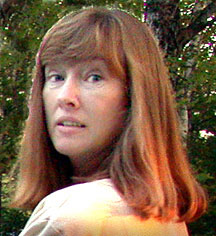 Anita Anderson
Anita Anderson (piano) has been playing/singing for dances since the mid 1980s--contra, Scandinavian, swing, and English country. A different personality is required for each (rowdy, soulful, and outrageous, for the first three), and English provides a place to use them all. She is known for her sly jokes and quotations as well as for her technique of playing along with the dance teaching to unite the dance and music phrases. An enthusiastic dancer herself, she takes the dancers' point of view when playing, so as to give them all the clues they need to move effortlessly. When not at the piano with the Tricky Brits, a Seattle ECD band, or its contra counterpart, Bag o' Tricks, she works in computer documentation, tends a small but intensively planted garden, and makes desserts.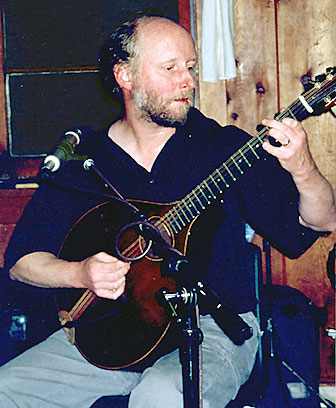 Dave Bartley
Dave Bartley plays mandolin, guitar, cittern, and numerous other plucked string instruments. He has also written scores of dance tunes, some of which are working their way into repertoires around the country. Dave's odyssey from rock guitarist to classical musician to eclectic sideman and tunesmith filters through his fingers, making you wonder what he'll do next, playing the music, then playing around, inside, and finally beyond it. Currently, Dave plays with the Tricky Brits (with Anita Anderson), and Bag o'Tricks and KGB for contras. KGB also plays for English country dance music as MI-5, most recently for the 2001 Portland English Ball. Dave has danced and played for English country dance for twelve years. Dave has also studied and played music of the Balkans, currently playing Greek music with Mendocino Balkan Week regulars Christos Govetas and Ruth Hunter in the band Pangeo, and with the Shiroka Dusha ensemble led by Mary Sherhart. In his early twenties Dave studied classical guitar with Gary Bissiri and performed it professionally on the side while pursuing a career in engineering. Still a classical music aficionado, he played mandolin onstage in the Seattle Opera's 1999 staging of Don Giovanni.
Jon Berger
Jon Berger (fiddle, concertina) has played music for morris, English country, and contra dances since 1976. A former musician for Berkeley Morris, he now plays for Apple Tree Morris in Sebastopol, and in Flashpoint, a Santa Rosa-based contra dance band. He is well-known for his powerful music, and, while playing for morris, his ability to maintain a connection between the music, the dancers and the dance (not to mention his sense of humor, and grand singing voice). He is a regular musician at Bay Area and North Bay English country dances. Jon is also a former member of Tempest, a Celtic rock band that plays for an entirely different style of dancing. In his spare time between gigs, Jon is a lawyer for a small software company. He lives in Sebastopol, California with his wife, famed morris dancer Kalia Kliban, and a sufficient number of cats.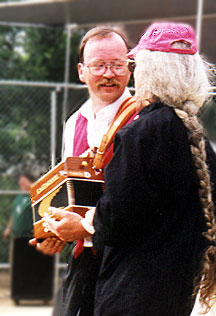 Allen Dodson
Allen Dodson began playing melodeon nearly twenty years ago under the influence of people like Tufty Swift and John Kirkpatrick. Allen has played for morris teams in Australia, England, and the United States, and is well known for his energetic yet tuneful music for Cotswold morris (his first love) in particular. His playing has drawn superlatives from Roy Dommett, Ramsay's Braggarts, and Mayfield Morris and Sword, among others. Although he's mostly known for playing display dance music, pumping out wonderful English tunes for those silly ceilidh dances, and accompanying English clog, Allen also loves to play for Playford-style ECD, especially with good friends at Mendocino.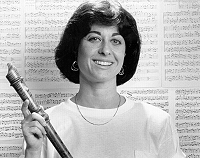 Judith Linsenberg
Judith Linsenberg (recorder) comes to us from the world of early music, where she has been hailed for her "virtuosity" (Washington Post), "expressivity" (Seattle Post-Intelligencer), and combination of "masterly control with risk-taking spontaneity" (Early Music). She has taught at Pinewoods Early Music Week, and many other early music workshops throughout the US, and has played for numerous English country dances in the S.F. Bay Area, including the Fall Ball. "Swinging on the Gate," the BACDS-sponsored CD, includes a rendition of "Mr. Isaac's Maggot" with Judy playing soprano recorder. Judy has performed extensively throughout the United States and Europe, and has been featured with the San Francisco Symphony, the LA Chamber Orchestra, Philharmonia Baroque Orchestra, and many others. Ms. Linsenberg is the winner of national performance awards and has recorded for Virgin Classics, Harmonia Mundi, Dorian, etc. She is the Artistic Co-director of the ensemble, Musica Pacifica (www.musicapacifica.org). A Fulbright scholar to Austria, Ms. Linsenberg was awarded the Soloist Diploma with Highest Honors from the Vienna Academy of Music. She is a summa cum laude graduate of Princeton University, holds a doctorate in early music from Stanford University, and has been a visiting professor at the Vienna Conservatory and Indiana University's Early Music Institute in Bloomington.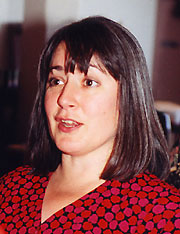 Kimberly McKittrick
Kimberly McKittrick, noted fiddler, singer, and caller, will be joining us from Seattle (more detailed bio to come).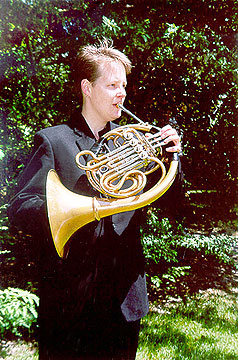 Erin Vang
A native of Montana, Erin Vang holds degrees in horn performance from St. Olaf College and Northwestern University and has studied with Boris Rybka, Kendall Betts, and Dale Clevenger. She freelanced in the Chicago area for seven years; highlights include Le Cid and Die Walküre with the Lyric Opera of Chicago, tours of Korea and Germany with the Chicago Chamber Orchestra, and performances with the Ravinia Festival Orchestra, Symphony II, and Symphony of the Shores. She is currently a member of the Monterey Symphony and also performs frequently with the Oakland East Bay Symphony, San Jose Symphony, Berkeley Symphony Orchestra, Women's Philharmonic, and the Foghorn Quartet. Recently, Erin and various beasts from the brass family have begun showing up at San Francisco Bay Area English dances and gatherings (the Bufflehead Northwest Morris team having suffered a particularly acute infestation).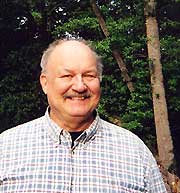 Chuck Ward
Chuck Ward (piano; ECD band class), one of the founders of the local dance scene, brings tremendous depth of keyboard knowledge, history, and technique to camp. Chuck has been playing for English country dances since long before the advent of BACDS (of which he is a co-founder). His Baroque sensibilities combined with his love of musical jokes has made him popular at Mendocino, as well as the camps at Pinewoods, Berea (KY), Brasstown (NC), and the weekly dances in the Bay Area and Sebastopol. He was a member of that renowned group, the Claremont Country Dance Band, whose recordings may still be acquired through CDSS. Be sure to ask Chuck for a limerick when you see him!