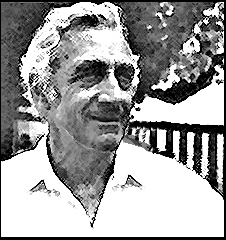 Don't miss the Bay Area Tour of
Legendary British caller
Hugh Rippon
& the Deeply Danceable Ceilidh Band
Four in a Bar
Here from England for one week only
February 14-21, 2004
Hugh Rippon is a leading light of the folk dance world. He has called ceilidh dances, danced, taught, and played music for morris, and championed folk dance for more than 40 years. He literally wrote the book (okay, two books) on English dance. He founded Hammersmith Morris Men and co-founded the University Morris Men, among several other morris teams. Almost singlehandedly he created the lively barn dance & ceilidh scene in England, where hundreds of people who didn't even know they liked to dance will pack dance floors for hours of fun.
The band Four in a Bar plays pumped-up, exciting, rock-inflected traditional music that won't let you do anything but dance. The band is packed with experience and puckish wit: John MacIntosh (bass player, also with the top English ceilidh band Peeping Tom), Mike Torbe (keyboard player, ex-bass guitarist with Pete Grassby's Aardvark Ceilidh Band), Dave Shuttleworth (drums), and Lynne Cooke (piano accordion).
Where to find them (at least so far):
Sunday, February 15 - Barn dance/ceilidh dance with Hugh Rippon & Four in a Bar, Goat Hall, 400 Missouri Street (corner of Missouri and 19th St. in Potrero district), San Francisco. 8-11 pm, $8 for BACDS members, $10 for non-members.
This will be the best chance to see Hugh Rippon and Four in a Bar as they'd appear at a ceilidh dance in England. Dance simple, rousing dances, have a beer or soda with your buddies, or just listen to excellent music (if you can keep from dancing). We'll have a spot of extra entertainment at the mid-evening break.
Monday, February 16 - Morris and ceilidh history discussion/demo with Hugh Rippon & friends, Church of the Good Shepherd, 1300 Fifth Avenue, Belmont. 7:30 PM, admission $7.
*This is a special treat.* This man is one of the reasons we have Morris dancing today in the Bay Area -- come meet him and pick his brain. Ask him what his favorite John Kirkpatrick story is, what his Most Unusual Gig was, and how the old and new Cotswold traditions blended and didn't. If you'd already know you'd like Hugh to discuss a particular tradition, email Vanessa in advance so we can let him know to swot up -- he's got a lot of history he could review. Hugh's also up for discussing his decades of calling ceilidh dances.

If you're coming from out of the area and need a place to sleep over that Monday evening, email Vanessa or phone 650-365-2913, and we'll see what we can arrange.
Friday, February 20 - Hugh Rippon & Four in a Bar guest-star at the Palo Alto English dance, 461 Florence Street, Palo Alto, 8 PM
Hugh will be calling at the BACDS Palo Alto English dance, both barn dance-style dances and English dances. Four In A Bar will be guest-starring. There will be many dances suitable for people who've lost their knees to the ravages of time or Morris dancing.

More opportunities to see Hugh Rippon and Four in a Bar are in the works!
Check back regularly for the latest news!