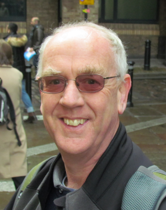 Remembering James Candlin --
James died tragically on September 9, 2016 while following one of his passions, traveling. He had a lifelong love for music, folk dance and many other good things to fill his days, such as family, friends, wine and food. We like to remember his kind spirit, gentle soul and British wit, as well, his passion for big figure-8s and extra twirls. His presence and spirit were as tall as he was. Please join us.
Sunday, April 23, 2017
2-6 pm
Lucie Stern Community Center
1305 Middlefield Road
Palo Alto
Check below for details and info on how to help.