Balance the Bay 2009
The San Francisco Contra Weekend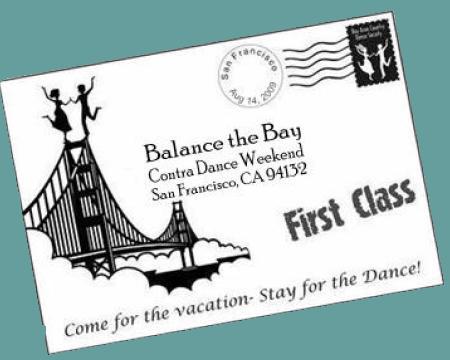 featuring Adina Gordon and Joyce Miller calling to the music of Crowfoot and Swing Farm, and couple dancing with Richard Powers
We're Full!
We've reached our fully subscribed level of 230 dancers and staff. If you mailed your check by July 31 (or at least told us by then that your check is in the mail), you're in. Otherwise, you'll be put on a waiting list in case someone cancels.
New Date! August 14-16, 2009
Experience the
cool
of summer in San Francisco
Just a quarter mile from the Pacific Ocean, overlooking the tranquil waters of Lake Merced, on Skyline Drive just south of the San Francisco Zoo.
Direct public transit access
We have room for 200 men, women, couples and children,
and look forward to dancing with all of you very soon!
This is a non-gender-balanced event. Everyone is welcome!
This dance weekend is fragrance-free so all can enjoy the dancing.
Please note: pre-registration is required before the weekend begins.
No walk-ins will be accepted, unless arranged in advance.