T-shirts and Tote Bags will be on sale at the dance weekend!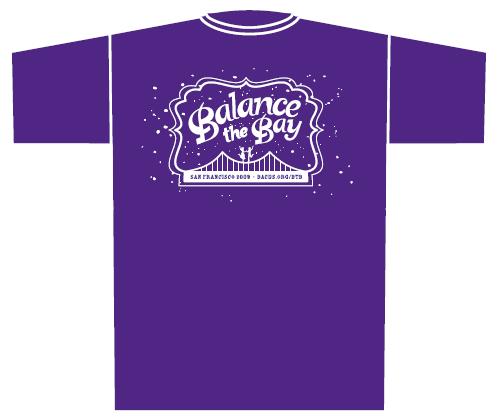 The t-shirt this year will be purple with a white log as depicted here.
The men's T-shirt is a standard unisex T, 100% cotton, pre-shrunk, by Gildan. It is available in Medium, Large, Extra Large, XXL, and XXXL.
The women's T-shirt is by District Threads. It is a 100% cotton, pre-shrunk, ring-spun fabic with a stretchy tapered fit. It is available in Small, Medium, Large, and Extra Large, XXL, and Plus 1X. The Extra Large Women's shirt is about the same size as the men's Medium. Make sure you try it for size before buying.
The tote bags are 14" by 12" by 6.5", with side and inner pockets, in purple, with the same logo as the T-shirt.
We don't have time this year to set up for online T-shirt or tote bag orders. But you can E-mail us your preferences, and we'll set them aside for you to pick up when you arrive.
Prices
This year's T-shirts and totes are priced at $15, including sales tax. A selection of last year's shirts will also be available for $12.