Saturday, May 9
Caller: Lynn Ackerson
Band: The wiNgNuts (Chris Knepper, Will Wheeler, Christie Hubbard)


Saturday, May 23
Caller: Alan Winston
Band: The Santa Barbara Mountain Boys (Erik Hoffman, Dan Engle)


Saturday, May 30
Caller: Susan Petrick
Band: Strings 'n' Things (Derya Akin, Deniz Akin, Molly McNeil)


Saturday, June 13
Caller: Cis Hinkle [GA]
Band: KGB [Seattle] (Julie King, Claude Ginsburg, Dave Bartley) — FREE! Come help celebrate 120 years with a special Birthday Dance to commemorate the 60th birthdays of Eric Black and Diane Zingale. Donations to the performers and refreshments for the break are always welcome.


Saturday, June 27
Caller: Linda Leslie [MA]
Band: Clew Bay (Alden Robinson [ME], Peter Siegel [VT], Owen Marshall [ME], Matt & Stuart Kenney [MA]) — preview of AmWeek staff! — Special Price: $12/$10/$6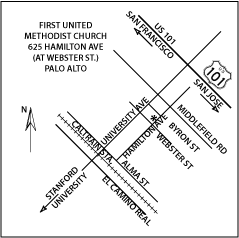 LOCATION:
First United Methodist Church, 625 Hamilton Avenue (Near Middlefield Rd), Palo Alto (upstairs in the boxy Social Hall building on the corner at Byron St.)
Get directions
Potluck Goodies at the mid-evening break!


---
TIME: 8 p.m. - 11 p.m.
(A free half-hour lesson begins at 7:30 p.m.)


PRICE:
$15 supporters,
$10 non-members,
$8 members
$5 students or low-income
or pay what you can


DRIVING AND TRANSIT DIRECTIONS FOR FIRST UNITED METHODIST CHURCH