Saturday, November 28
Caller: Erik Hoffman
Band: Stolen Goods (Ruthie Byers, Ben Kuhn, Christopher Jacoby) — Thanksgiving dessert potluck!


Saturday, December 12
Caller: Robin Steen
Band: Luceo (Lee Anne Welch, Rebecca King, Karl Franzen)


Saturday, December 26
Caller: Eric Black
Band: Three Fifths of Scotch (Eloise Blanchard, Elizabeth Todd, Del Eckels, Debra Tayleur)


Thursday, December 31
Caller: Lynn Ackerson
Band: StringFire (Erik Ievins, Patti Cobb, James MacQueen) — New Year's Eve Contra Dance THURSDAY, December 31, 8pm–12:15am. $20, $16 members, $10 students. Ring out the old year and waltz in the new with a special contra dance at a special time. Potluck contributions welcome to supplement the provided refreshments — your chance to show off!


Special October 24, 2015 Location: First Baptist Church, 305 North California Ave., Palo Alto, CA 94306 - One Night Only
View Larger Map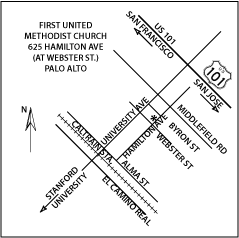 LOCATION:
First United Methodist Church, 625 Hamilton Avenue (Near Middlefield Rd), Palo Alto (upstairs in the boxy Social Hall building on the corner at Byron St.)
Get directions
Potluck Goodies at the mid-evening break!


---
TIME: 8 p.m. - 11 p.m.
(A free half-hour lesson begins at 7:30 p.m.)


PRICE:
$15 supporters,
$10 non-members,
$8 members
$5 students or low-income
or pay what you can


DRIVING AND TRANSIT DIRECTIONS FOR FIRST UNITED METHODIST CHURCH