2nd, 4th & 5th Saturdays
-- First United Methodist Church of Palo Alto
We suggest/request that you:
wear comfortable, light­ clothing.
bring comfortable shoes with clean, non-marking soles.
avoid using alcohol or drugs before the dance.
not wear any artificial fragrances.
Saturday, October 28
Caller: Susan Petrick
Band: George Paul [VA], Ben Schreiber, Mika Scott - 37th Annual BACDS Hallowe'en Costume Ball, 8pm-midnight. Special Price: $16/$14/$8. Wear a danceable costume and compete for the Ron Award. Potluck contributions welcome to supplement the provided refreshments. www.BACDS.org/Halloween


Saturday, November 11
Caller: Emma Anderson [WA]
Band: Countercurrent [WA] (Brian Lindsey, Alex Sturbaum)


Saturday, November 25
Caller: Eric Black
Band: Westfolk Gals (Deniz & Derry Akin) - Thanksgiving dessert potluck!


Saturday, December 9
Caller: Frannie Marr [SoCal]
Band: Audrey Knuth & Dave Cory, Christopher Jacoby


Saturday, December 23
Caller: Alan Winston
Band: Pepperjack


Saturday, December 30
Caller: Dance canceled!
Band: COME BACK TOMORROW


Sunday, December 31
Caller: Kalia Kliban
Band: StringFire (Erik Ievins, Patti Cobb, Shira Kammen) New Year's Eve Contra Dance! 8 PM-12:15 AM $25, $20 (members), $10 (student/low-income) or pay what you can. Potluck contributions welcome to supplement the provided refreshments - your chance to show off!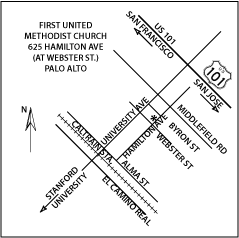 LOCATION:
First United Methodist Church, 625 Hamilton Avenue (Near Middlefield Rd), Palo Alto (upstairs in the boxy Social Hall building on the corner at Byron St.)
Get directions
Potluck Goodies at the mid-evening break!


---
TIME: 8 p.m. - 11 p.m.
(A free half-hour lesson begins at 7:30 p.m.)


PRICE:
$20 supporters,
$12 non-members,
$10 members
$6 students or low-income
or pay what you can


DRIVING AND TRANSIT DIRECTIONS FOR FIRST UNITED METHODIST CHURCH