October 25
Caller: Mary Wesley [VT] and Special Ghosts
Band: 34th Annual BACDS Hallowe'en Costume Ball with Pete's Posse [VT] (Pete Sutherland, Oliver Scanlon, Tristan Henderson) — 8pm–midnight. Special Price: $14/$12/$7.


November 8
Caller: Charlie Fenton
Band: Lee Anne Welch, Ruth Anne Fraley, Topher Gayle


November 17
Caller: Susan Petrick
Band: The Syncopaths (Ryan McKasson [Seattle], Ashley Broder [SoCal], Jeff Spero [SoCal], Christa Burch [SoCal]) — Special day & time: 7:30–10:30pm, special price: $12/$10/$6


November 22
Caller: Kalia Kliban
Band: Hillbillies from Mars (Ray Bierl, Kevin Carr [OR], Paul Kotapish, Daniel Steinberg)


November 29
Caller: Frannie Marr [SoCal]
Band: Magic Reelism (Cheryl McKinney, Susan Jones, David Wright, all from Sacramento) with Del Eckels


December 13
Caller: Eric Black
Band: Frequent Flyers (Laura Light [NC], Ben Schreiber, Daniel Steinberg)


December 27
Caller: Lynn Ackerson
Band: StringFire (Erik Ievins, Patti Cobb, James MacQueen [CO], Annie Rodier)


December 31
Caller: Yoyo Zhou
Band: New Year's Eve Contra Dance with Common Ground (Derya Akin, Deniz Akin, Molly McNeil)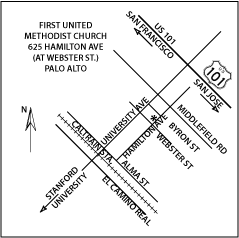 LOCATION:
First United Methodist Church, 625 Hamilton Avenue (Near Middlefield Rd), Palo Alto (upstairs in the boxy Social Hall building on the corner at Byron St.)
Get directions
Potluck Goodies at the mid-evening break!


---
TIME: 8 p.m. - 11 p.m.
(A free half-hour lesson begins at 7:30 p.m.)


PRICE:
$15 supporters,
$10 non-members,
$8 members
$5 students or low-income
or pay what you can


DRIVING AND TRANSIT DIRECTIONS FOR FIRST UNITED METHODIST CHURCH