Saturday, October 29
Caller: Kelsey Hartman and Special Ghost Callers
Band: Possum Hollow (Daniel Steinberg, Ben Schreiber, Ashley Broder [SoCal]) — 36th Annual BACDS Hallowe'en Costume Ball, 8pm–midnight. Special Price: $14/$12/$7. Wear a danceable costume & compete for the Ron Award. Potluck contributions welcome to supplement the provided refreshments. For more info see bacds.org/Halloween


Saturday, November 12
Caller: Kalia Kliban
Band: TriplePlay (Ben Schreiber, Charlie Hancock, Chris Knepper)


Monday, November 21
Caller: Lindsey Dono [WA]
Band: The Syncopaths — Special time: 7:30–10:30pm (beginners' welcome 7:00); Special price $12/$10/$6


Saturday, November 26
Caller: Eric Black
Band: Noodlefish (Karl Franzen, Sarah Kirton, Paul Price)


Saturday, December 10
Caller: Gaye Fifer [PA]
Band: Patt & Possum [IL] (Charlie Walden, Patt Plunkett) with Mark Wardenburg


Saturday, December 24
Caller: CANCELED
Band: NO DANCE — COME ON NEW YEAR'S EVE


Saturday, December 31
Caller: Andy Shore
Band: StringFire (Erik Ievins, Patti Cobb, Shira Kammen) — New Year's Eve Contra Dance SATURDAY, December 31, 8pm–12:15am. $20, $16 members, $10 students. Ring out the old year and waltz in the new with a special contra dance at a special time. Potluck contributions welcome to supplement the provided refreshments — your chance to show off!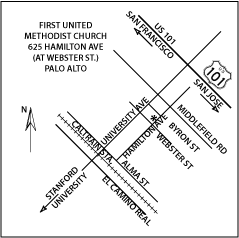 LOCATION:
First United Methodist Church, 625 Hamilton Avenue (Near Middlefield Rd), Palo Alto (upstairs in the boxy Social Hall building on the corner at Byron St.)
Get directions
Potluck Goodies at the mid-evening break!


---
TIME: 8 p.m. - 11 p.m.
(A free half-hour lesson begins at 7:30 p.m.)


PRICE:
$15 supporters,
$10 non-members,
$8 members
$5 students or low-income
or pay what you can


DRIVING AND TRANSIT DIRECTIONS FOR FIRST UNITED METHODIST CHURCH