Saturday, February 28
Caller: Warren Blier
Band: Ben Schreiber, Daniel Steinberg


Monday, March 2
Caller: Rachel Wallace [Chicago]
Band: Sassafras Stomp [ME] (Johanna Davis, Adam Nordell) - 7:30-10:30


Saturday, March 14
Caller: CANCELED
Band: NO DANCE — Go to Spring Fever Weekend, and the Special Palo Alto Contra on Monday!


Monday, March 16
Caller: Nils Fredland [NH]
Band: Maivish (Jaige Trudel [QC], Adam Broome [QC], Matthew Olwell [VA]) with Nils Fredland — special price:$12/$10/$6, special time (7:30–10:30pm), special post Spring Fever dance!


Saturday, March 28
Caller: Charlie Fenton
Band: The Rosin Doctors (Daniel Engle, Erik Hoffman, Topher Gayle)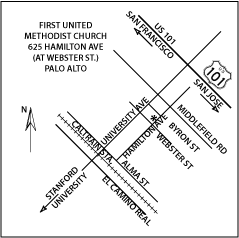 LOCATION:
First United Methodist Church, 625 Hamilton Avenue (Near Middlefield Rd), Palo Alto (upstairs in the boxy Social Hall building on the corner at Byron St.)
Get directions
Potluck Goodies at the mid-evening break!


---
TIME: 8 p.m. - 11 p.m.
(A free half-hour lesson begins at 7:30 p.m.)


PRICE:
$15 supporters,
$10 non-members,
$8 members
$5 students or low-income
or pay what you can


DRIVING AND TRANSIT DIRECTIONS FOR FIRST UNITED METHODIST CHURCH