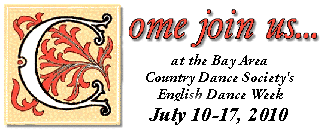 English Week 2010 Program Questionnaire
Please return this questionnaire by June 1, 2010 to:
Jim Oakden
2731 Warren St.
831-479-9533
joakden@gmail.com

English Week 2010 is currently sold out, with a wait list.
For more information, please check with our camp manager, Loretta Guarino Reid,
(650-493-6012, loretta@guarino.com)
or our camp registrar, Denis Thalson (510-704-9561, dthalson@earthlink.net)

Unless otherwise noted, layout and content Copyright © 2002-2010, Bay Area Country Dance Society. All rights reserved.