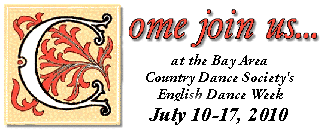 Andrew Shaw
Andrew Shaw, one of the UK's most sought-after ECD leaders, is widely regarded for his detailed knowledge, high standards, wit, and clear instruction with an emphasis on style. His interest in late 17th/early 18th century dances has resulted in the publication of four collections including Farnicle Huggy, released in 2009 and accompanied by a CD performed by Jon Berger, Rebecca King, and Jim Oakden.
- - - - -
Bruce Hamilton
Bruce Hamilton (CA), a thoughtful and energetic teacher of English and Scottish country dance for more than 30 years, focuses on nonchoreographic elements: how to move well, how to be musical, how to recover from slips, how to be a good partner, etc. He carries this focus into his sought-after callers' classes. He is current president of the Country Dance and Song Society.

- - - - -
Carol Marsh
Carol Marsh (NC) began studying Baroque dance in the 1970s. Her fascination with dance notation led to a Ph.D. dissertation on English sources. Currently she is exploring the relationship between Baroque and ECD, particularly the use of country dances in theatrical contexts. She has taught Baroque dance and ECD at Pinewoods, Amherst Early Music Institute, Stanford Baroque Dance Workshop, and University of Salzburg.

- - - - -
Kalia Kliban
Kalia Kliban (CA) has been part of the Bay Area dance community since the mid-80s, performing and teaching morris, longsword, American and English clog, and English country dance. She is program director for BACDS Family Week. Her clear and humorous teaching style has gotten feet tapping at camps and gatherings in California and beyond.

- - - - -


Brooke Friendly and Mary Devlin
Brooke Friendly (OR) and Mary Devlin (OR) will provide some evening dance party calling. Brooke is renowned for her choreography, concise calling, and sense of whimsy. Mary leads ECD, contras, and squares, and is known for calling dances that emphasize great connections. Both are former program directors for English Week.

- - - - -

Bare Necessities
Bare Necessities is celebrated nationwide for its unique presentation of ECD music. Performing since 1978, the band has toured in England and played for festivals, balls, and dance camps throughout the U.S. and Canada. Their passionate improvisational performances have helped shape this generation's country dance tradition with a blend of period chamber music, dance lilt and flow, contemporary harmonic lines, wild changes of mood, and musical jokes.

- - - - -

Peter Barnes
Peter Barnes (MA) has been putting sparks under people's feet for more than 30 years playing piano, flute, whistle, oboe, guitar, and more for English country, contra, and vintage dancing. Also a member of several contra dance bands, he has published four dance music books, toured 12 countries, and appeared on over 50 recordings.

- - - - -

Earl Gaddis
Earl Gaddis (MI) is a full-time dance musician, having played fiddle and viola for English, Scottish, American, and international dancing throughout the U.S. and abroad for well over 40 years. Earl is also a member of Woodlark and several Scottish bands.

- - - - -

Mary Lea
Mary Lea (VT) was classically trained from a musical family. She plays in a number of other bands including Yankee Ingenuity (New England contra music), BLT (couple and quadrille music, including ragtime, tango and blues), Cafe Paradiso (South American music); the ECD band MGM; and the eclectic string ensemble Childsplay.

- - - - -

Jacqueline Schwab
Jacqueline Schwab (MA) also plays for New England contra, Scottish country, couple dancing, vintage, and tango; has performed with many traditional and folk musicians, and presents solo piano concerts nationwide. She has played on over 40 recordings and performed on soundtracks for numerous award-winning PBS documentaries.

- - - - -


Jon Berger
Jon Berger (CA) has played fiddle and concertina for morris, ECD, and contra dances since 1976. He plays for Sebastopol's Apple Tree Morris and in the dance band Flashpoint. Jon also has a grand singing voice.

- - - - -


Shira Kammen
Shira Kammen (CA), multi-instrumentalist and vocalist, provides innovative and delightful interpretations of early, traditional, and ethnic music. She performs and teaches in North America and abroad, and has appeared on dozens of CDs with medieval, classical, and traditional ensembles.
- - - - -


Rebecca King
Rebecca King (CA) is a versatile dance pianist whose strong classical training and love of jazz shows in her rhythmic and lyric piano accompaniments. She plays ECD and contra in the Bay Area, mainly with the bands Flashpoint and Luceo.

- - - - -


Jim Oakden
Jim Oakden (CA), English Week program director, plays an absurd number of instruments from accordion to zurna. He stumbled into early music from the classical music scene, then discovered traditional and ethnic dance and music. He has played for English and morris for 20+ years, and performs as a dance musician in an eclectic array of genres.

Jim is the program director for English Dance and Music Week. He will also play for ECD classes.

- - - - -


Tina Fields
Tina Fields (CA) brings a repertoire running from the silly to the sublime, from sacred chants and trad ballads to sea shanties and pub songs. She's known for hosting fun and inclusive singing sessions.

- - - - -

Adrienne Simpson and Bob Felch
Adrienne Simpson (CA) and Bob Felch (CA) are the sound engineers for the week. They apprenticed under sound guru Marty Brenneis, and will bring their technical expertise and refined artistic sensibilities to the sound board.

- - - - -