2nd, 4th & 5th Saturdays
-- First United Methodist Church of Palo Alto
ROLE NAMES: The role names usually used at this series are "Gents" and "Ladies". The roles do not define gender so anyone may dance any role. On occasion we will have an evening using gender-neutral role terms
We suggest/request that you:
wear comfortable, light­ clothing.
bring comfortable shoes with clean, non-marking soles.
avoid using alcohol or drugs before the dance.
not wear any artificial fragrances.
Saturday, March 28
First United Methodist Church of Palo Alto, 625 Hamilton at Byron, Palo Alto
Caller: Celia Ramsay
Band: Chaos Wranglers (Kenny Blacklock, Topher Gayle, Erik Hoffman)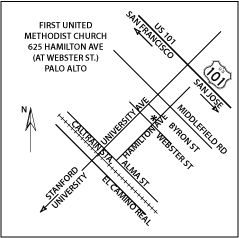 LOCATION:
First United Methodist Church, 625 Hamilton Avenue (Near Middlefield Rd), Palo Alto (upstairs in the boxy Social Hall building on the corner at Byron St.)
Get directions
Potluck Goodies at the mid-evening break!


---
TIME: 8 p.m. - 11 p.m.
(A free half-hour lesson begins at 7:30 p.m.)


PRICE:
$20 supporters,
$12 non-members,
$10 members
$6 students or low-income
or pay what you can


DRIVING AND TRANSIT DIRECTIONS FOR FIRST UNITED METHODIST CHURCH