---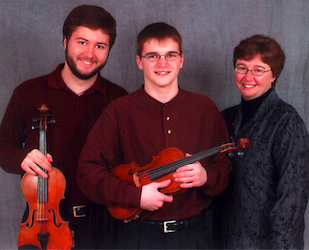 The Great Bear Trio is quickly becoming one of the most exciting and talked about contra dance bands in the nation. With a strong and growing fan base in their native northeast, Great Bear is now bringing their unique brand of high-energy folk music to festival stages, concert halls and dance floors across the country. Brothers Andrew and Noah VanNorstrand are both still in their teens but display a mature and seasoned musicality beyond their years. The core of Great Bear's instrumentation has always been twin fiddles and piano, ably supplied by mother Kim, but the line up is frequently augmented by mandolins, guitars, banjo and an assortment of percussion including the African djembe and the Australian didgeridoo.
Andrew and Noah compose and arrange the majority of Great Bear's material, drawing heavily on Celtic and Appalachian fiddling traditions for their melodies but with plenty of room for improvisation and an occasional alt-rock or world beat groove creeping into the rhythm section. There are also some new original songs in their repertoire now, a welcome addition to their well-known instrumental skills. Great Bear's distinctive sound has won them fans all over the continent and they are continuing to shape the face of contra dance music in the 21st century.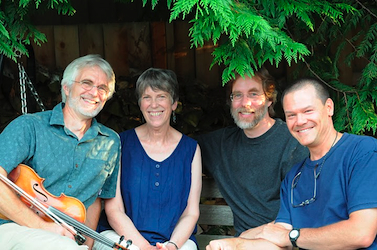 Joyride is a contra dance band of friends from Portland, Oregon, playing for contra dances, dance camps, weekends and festivals. Known for tight ensemble work, skilled play, fun energy, and inventively arranged tune sets, Joyride plays old and new dance tunes from New England, the British Isles, Appalachia, French Canada and right here at home.
George Penk's richly-danceable fiddle is joined by Erik Weberg's flute, harmonica, & bombarde, Sue Songer's lilting piano and Jeff Kerssen-Griep's ebullient guitar and percussion. Sue also joins George to drive twin fiddles. Joyride hosts excellent regional and national callers at their own "First Wednesdays" contra dance each month at Portland's historic Polish Library Association Dance Hall.
One dancer describes their music as "...life-changing; pure ethereal beauty!!!" Another proclaims that "Joyride is the perfect name! Thanks for bringing so much joy to all of us!" Joyride works hard at finding new ways to earn such comments and to continue keeping dancers and callers happy!
George Marshall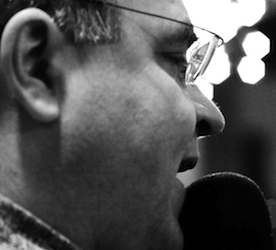 George Marshall was introduced to square and contra dancing in the early seventies while working as a summer trail crew volunteer in the White Mountains of New Hampshire. He quickly became an avid dancer, seeking out dance venues wherever he could find them. While attending college in Amherst, Massachusetts, he founded a contra-dance band, Swallowtail, with some fellow students and began calling and playing for dances. Now a full-time musician/caller/dance teacher, George tours nationally throughout the year with Wild Asparagus. While most of the time he can be found calling/playing with Wild Asparagus or Swallowtail, George also calls occasionally with the Clayfoot Strutters, Nightingale, and the Horseflies.
George's specialty is teaching and calling the New England-style contra dances he has collected throughout the country. He is renowned for his knack of matching music to dance and for his smooth, concise teaching and presentation. Also a talented musician, he plays concertina and bodhran and has recorded on eight albums. As a couples-dance teacher, his repertoire includes Lindy/swing, Scandinavian, Cajun and Zydeco. In addition to performing and teaching, George produces music and dance events including week-long winter dance vacations in the Caribbean, and Hawaii.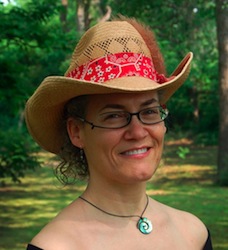 Bev Bernbaum has been addicted to all things contra since she was first introduced to it at the Falcon Ridge Folk Festival in the summer of 1996. Not long afterwards, she made her debut as a caller for a group of drunken students in a college pub! Seeing that things went much better than anticipated that night, she decided to keep at it. Since then, Bev has been in demand as a regular caller in her home town of Toronto, and in the Ontario area.
Bev often travels south of the border to call in both small and large venues. She made her 6th consecutive appearance calling dances at the New England Folk Festival, and called her first American Dance Weekend in Lansing, MI in 2009. In 2010, Bev headed to the southern hemisphere for 15 dances on the south island of New Zealand! Since then, she has called across the United States. She just called her first "techno" dance at "Contra Sonic" in Washington DC.
Bev's philosophy is to call the dances that she likes to dance herself. She's always on the lookout for interesting figures or formations to mix things up. Her clear voice, calm manner and straightforward teaching style make contra dancing a pleasure for both beginning and experienced dancers.
Programming
This year's program is arranged by Susan Petrick.
Sound
Sound engineering by Victor Garza.