Thirty-five years after its first camp at the Mendocino Woodlands in 1981, BACDS American Dance & Music Camp continues the long tradition at our San Francisco coastal location.
Join us for the BACDS American Dance and Music Week, Sunday-Friday, June 26–July 1, 2016 at the Jones Gulch Camp in the coastal redwoods of Northern California, near San Francisco. Come early and stay late for extra dance events before and after camp!
Campers registered by May 31 are automatically entered into a drawing to win this fabulous purple twirly skirt made by Kelsey Hartman: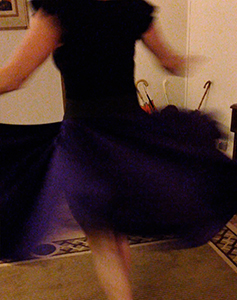 AmWeek 2016 will be Sunday June 26 through Friday July 1. Here is a one-page flyer you can print and help spread the word: AmWeekFlyer.pdf And here is the full-color camp brochure: Brochure.pdf
Go to Camp for Free!
If 3 full-fee campers sponsor you, you can get into camp free! See our "Hey for 4 for 3" details.
Campers who register by May 28 will receive our special design T-Shirt, included with registration!
Indicate your size preference on your registration form. We'll print a small number of extra shirts to handle late registrations after the May 28 deadline. We apologize if we run out of your preferred size.
CONTRAS AND SQUARES
Cis Hinkle and Will Mentor
OUTSTANDING MUSIC
Genticorum [from Canada!]
Pascal Gemme, Yann Falquet, Nicholas Williams
Stringrays
Rodney Miller, Max Newman, Stuart Kenney, joined by David Surrette, Matt Kenney
along with
Audrey Knuth & Amy Englesberg (from The Free Raisins)
MUSIC WORKSHOPS
Instrument, tune-writing, accompaniment workshops
TRADITIONAL CRAFTS
JAM–O–RAMA
... AND SO MUCH MORE!
Join us for what may be the most fun-filled week you've ever experienced!
(ahem...really, this is no exaggeration)
(seriously, this is Amazingly Good Fun!)
Full camper fee only $675
with sliding scale $225-$375 for 30 and younger or underemployed
(see registration form for details)
Join Us! June 26–July 1, 2016
with Bay Area dance events before and after camp
Please share our easy-to-print BACDS American Week flyer with your dance and music communities.

You can also download a PDF version of our colorful printed brochure.

See us on Facebook — tell your friends about how much fun they'll have with you at camp!