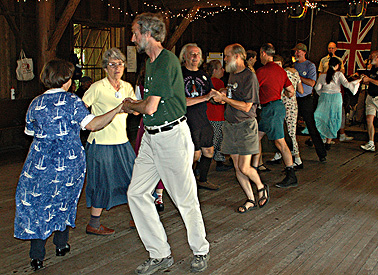 All dancers (ECD and display) and musicians -- new and veteran -- will find a welcoming atmosphere and wonderful experiences. We invite you to join our community, and to be part of the continuing tradition of English Week at Mendocino!

Display dancers will find lots of opportunities, including some great classes, a 'grab bag' session, and the Morris tour and pub sing in town. If you are primarily interested in English country dance, you can take dance workshops all day long. There is also a strong musicians' track, and there will be numerous opportunities for singing. As noted on the schedule, there is almost always something to do (and relaxing in the beautiful woodlands is a viable option).

After the evening dance we gather for special entertainment or an after-hours diversion. In 2007 we will have an English Pub Night, a Ceilidh dance, Balkan dancing and more. And of course there's always the Auction and the Campers Night: feel free to bring items to donate, dances to teach, and talents, tales, or songs to share.

New in 2007 is a gathering at the outside dining area before lunch for staff and camper performances, stories, and more. One afternoon we hold a High Tea -- bring your white gloves and a charming hat if you wish. We also stage occasional late-afternoon get-togethers to help us relax between the day's classes and the evening's dances.

Be sure to check your camper's letter for more details on what to look forward to this year!