Program: Class Descriptions 2016
For details on the schedule, click here.
Click on the links below for details of the 2016 classes.
ECD: English as a Dance Language
For dancers of ALL abilities
David Millstone with Shira Kammen, Lisa Scott, and Annie Rodier
Like any activity, English dance has its own jargon. Dancers will learn basic ECD terminology, figures, and concepts in a supportive atmosphere while exploring classics of the repertoire as well as newer compositions. Experienced dancers will enjoy revisiting old favorites and discovering new ones. Beginners and experienced alike will enjoy hints for adding zest to your dancing.
(back to top)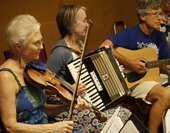 ECD: Calculus (Advanced)
For EXPERIENCED and ACCOMPLISHED dancers
Joseph Pimentel with Goldcrest (Daron Douglas, Paul Oorts, and Dave Wiesler)
If you are an experienced dancer who has mastered English dance geometry and are ready to focus on mastering significant challenges, you will enjoy this class. We will break large dance chunks and complex ideas into digestible pieces, study them, and put them back together to facilitate more satisfying dance experiences. The set of dancers who will enjoy this class is limited to those who are really up to the challenge.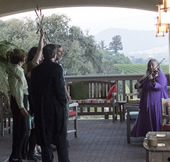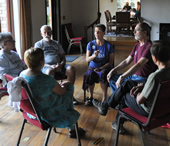 Callers Class: Graduate Attention to Kindergarten Concepts
For ALL callers
Joseph Pimentel with Daron Douglas
When you know something intimately and intuitively, it can be hard to explain it to others, but when you struggle to learn something unfamiliar you can often then explain it quite well. Effective teaching in our area of expertise, then, can come from shifting our perspective from expert to novice so we can break concepts down to basics and organize them for easiest understanding. In this workshop, Joseph will encourage callers with basic experience and beyond to consider alternate perspectives to find the most effective ways to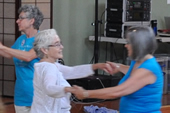 communicate with dancers. Joseph, Daron, and supportive peers will help brainstorm, and mic time will provide opportunities to test syllables and strategies. Interested and supportive dancers welcome!
ECD: Interdisciplinary Connections

For dancers of ALL abilities
Joseph Pimentel with Shira Kammen, Erik Weberg, Paul Oorts, and Dave Wiesler
New dancers focus on figures. More experienced dancers focus on timing and transitions. The most experienced dances know that dance nirvana comes from integrating all of these and more. This class for all English dancers aims to heighten awareness to many aspects of holistic dancing—our bodies know what feels best, the music guides us if we truly listen, and flirting with being late feels devilishly heavenly. We explore this and more in pursuit of transcendent dancing.
ECD: The Many Moods of English

For dancers of ALL abilities
David Millstone with Fine Companions (Betsy Branch, Erik Weberg, Bill Tomczak, and Lisa Scott)
English country dance offers extraordinary variety: formations, meter, tempo, energy level. We'll pay particular attention to many variables and how our bodies (and brains) respond to each.
Square Dance Potluck
For dancers of ALL abilities
David Millstone with Daron Douglas, Betsy Branch, and Dave Wiesler
An on-your-feet movable feast of square dance from across North America! We'll sample 19th century quadrilles, New England prompted squares, Quebecois swing-fests, southern Appalachian big sets, fast-tempo Ozark jigging, Texas competition styling, western patter, singing squares, and even a taste of early modern square dance.
Choreographers Testing Session
Open to ALL
Chris Sackett with Bill Tomczak and Lisa Scott
Join your fellow campers in a working session to test new dances (both new choreography and new reconstructions of old dances) and explore ways to improve them, at the same time honing your choreographic, dancing, and musical skills. Both fledgling and experienced ECD choreographers are welcome. Or come as a dancer - it's loads of fun to be part of the choreographic process and be among the first to dance a new creation.
Shape Note Singing
For singers of ALL abilities
Fred Todt
Experience why 200-year-old American songs have inspired a modern revival, as we sing the haunting and powerful harmonies of The Sacred Harp. With roots in Revolutionary War-era New England, shape note singing spread down the Appalachians during the 19th century and flourished in the rural South. Assigning shapes to notes has survived as a great way to teach sight-singing to singers of all musical abilities. No experience necessary. We'll provide music books.
Singing the Fine Music of England
For singers of ALL abilities
Shira Kammen
Enjoy learning and singing English Rounds, Madrigals, Ballads, and Country Dances with words, from the sublime to the ridiculous. We will learn by ear as well as do some sight-singing; the proportion will depend on the needs and desires of the group.
Ensemble Playing: Flemish Carillon Music
For EXPERIENCED musicians
Paul Oorts
Improve your ensemble playing skills for ECD with some interesting new material. Paul has transcribed many tunes from a mid 1700's Flemish tune book by the Antwerp carilloneur Johannes de Gruytters, containing marches, gavottes, arias, correntes, contradances, allegros, preludes, menuets, trios etc., all material similar to ECD or early contra tunes. We will talk about strategies for each instrument for taking lead and for playing harmony and chords. Eventually we'll work out smaller ensemble arrangements suitable for dancing.
This class is for the enjoyment of musicians who have a basic command of their instrument (i.e. can sightread intermediate tunes in Barnes).
Musical Improvisation
For musicians of ALL abilities
Bill Tomczak
We will take a look at a few English Country Dance tunes (to be announced in advance) as a jumping off point for personal creativity, expression, and as a conversation with with our bandmates and the tradition. Knowledge of some essential music theory basics will be helpful. If you are not familiar with scales and basic harmony, we invite you to also attend Betsy Branch's Music Theory class. The two classes will be loosely connected, though they are not required to be taken together.

Band Workshop

For EXPERIENCED musicians
Erik Weberg
Learn to play as an English Country dance band, with emphasis both on playing as a dancer, for dancers, and on inspiring each other through listening to one another. We will play a variety of tunes, and will explore ways we can enhance the dance experience through our music. We will also learn to attend to what other band members are doing and respond to that information while playing. We will prepare music for campers' night and later in the week we'll focus on playing walkthroughs effectively in a way that supports the caller's teaching and informs dancers as they learn dance sequences.
Prerequisite: at a minimum you should be familiar enough with your instrument(s) that you can play scales of up to 3 flats and sharps, and you must be able to read music and/or be able to pick up complete melodies by ear.
Music Theory
Open to ALL
Betsy Branch
If you have ever felt intimidated by music theory, but have a desire to understand the basics, this class is for you. We will learn about keys, modes and chords. We will learn why certain chords work in certain keys. We will use that information to look at harmonies, and try our hand at writing a few. You'll go home with handouts and worksheets that cover the basic principles. Betsy has spent years bringing music theory out of the clouds and down to earth for her fiddle students.
If you go to Bill's improv class, you will have the opportunity to try out some of these theory ideas. Betsy and Bill's classes will complement each other, but it's OK to take just one of them.
Dance Grab Bag
All experience levels welcome
a variety of staff
A wide range of choices through the week--something different every day!
Music and More Grab Bag
All experience levels welcome
a variety of staff
A wide range of choices through the week--something different every day!
Intro to Acting
All experience levels welcome
Dan Kozloff
Learn to translate scripted dialogue into convincingly real and entertainingly expressive behavior. We will perform a short play called ECD Confidential! at the end of the week. Note: You are asked to commit to the full week.
Photo credits: English dance, music, and rapper sword by Michael Siemon, longsword and singing by Julie Grieves