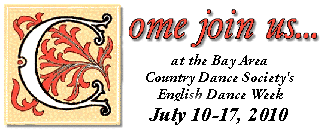 BACDS English Dance and Music Week 2010
Registration Form
Please print out and mail this form along with your check payable to BACDS to:
BACDS
c/o Denis Thalson
1105 Talbot Ave.
Albany, CA 94706

For further information about registration, call (510) 704-9561, or e-mail dthalson@earthlink.net.
Please send a $150 deposit along with all scholarship applications.
All applications postmarked by March 15th will be deemed to have arrived on that date.
Please send one registration form per person.

Remember, unless you specify otherwise at the bottom of this form,
*all* camp correspondence (including acceptance notice and your camper packet)
will come via email.

Your registration, whether submitted electronically or ground-mailed,
is not complete until we receive your check!

Key Deadlines
• Feb 1 - Registration opens ($25 cancellation fee)
• March 15 - Lottery postmark; $150 deposit due
• March 28 - $150 cancellation fee retained
• April 5 - Notification of acceptance mailed
• June 1 - Final balance due; $400 cancellation fee retained
• June 28 - No refund upon cancellation

Key Contacts
• Registrar, Denis Thalson
(510) 704-9561, dthalson@earthlink.net
• Scholarships and Manager,
Loretta Guarino Reid
(650) 493-6012, loretta@guarino.com
• Program Director, Jim Oakden
(831) 479-9533, joakden@gmail.com
Unless otherwise noted, layout and content Copyright © 2002-2010, Bay Area Country Dance Society. All rights reserved.