Thirty-three years after its first camp at the Mendocino Woodlands in 1981, BACDS American Dance & Music Camp continues the long tradition at our nearby location.
Make plans now to join us this summer for another fun-filled week.
Join us for the BACDS American Dance and Music Week, Sunday-Friday, June 29–July 4, 2014 at the Jones Gulch Camp in the coastal redwoods of Northern California, near San Francisco. Come early and stay late for extra dance events before and after camp! (flyer)
Registration Is Now Open
Sign up now for one of the best deals anywhere.
Register online, or print the registration form and send it by mail. You can pay by mailing a check after registering online, or print the registration form and mail it with a check, or pay online with a credit card.
Go to Camp for Free!
If 3 full-fee campers sponsor you, you can get into camp free! See our "Hey for 4 for 3" details.
Extra Special for the First 75 Registrants
The first 75 campers to register for AmWeek 2014 will be entered into a drawing to win these two twirly skirts made by Kelsey Hartman. The pair can be His and Hers, or Hers and Hers, or His and His (or Mine and Mine if you need a spare).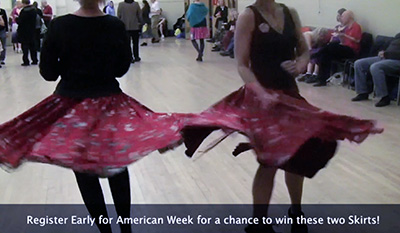 Campers who register by May 30 all will receive our special design T-Shirt, included with registration!
We'll print a small number of extra shirts to handle late registrations after the May 30 deadline. We apologize if we run out of your preferred size.
CONTRAS AND SQUARES
Lisa Greenleaf and George Marshall
COUPLE DANCING
George Marshall
OUTSTANDING MUSIC
Tidal Wave
Sabin Jacques, Stuart Kenney, Éric Favreau, Rachel Aucoin
Stringrays
Rodney Miller, Max Newman, Stuart Kenney
The Avant Gardeners:
Laura Light & George Paul with Jim Oakden
MUSIC WORKSHOPS
Music Sight-Reading and Fiddle Tutorials with Michelle Levy
Instrument, tune-writing, accompaniment workshops
TRADITIONAL CRAFTS
with Lea Smith
DANCE PHOTOGRAPHY
with Doug Plummer
JAM–O–RAMA
... AND SO MUCH MORE!
Join us for what may be the most fun-filled week you've ever experienced!
(ahem...really, this is no exaggeration)
(seriously, this is Amazingly Good Fun!)
Full camper fee only $625
with sliding scale $175-$350 for under 30 or underemployed
(see registration form for details)
Join Us! June 29–July 4, 2014
with Bay Area dance events before and after camp
Please share our easy-to-print BACDS American Week flyer with your dance and music communities. See us on Facebook — tell your friends about how much fun they'll have with you at camp!