Getting to American Week
Here's a nice little map showing the major freeway routes between the San Francisco Bay area (at the bottom) and Mendocino (in the top left corner, underneath Fort Bragg and Caspar). I couldn't quite convince Mapquest to include Oakland on this map, but if it were there, it would be just underneath San Francisco and a little to the right.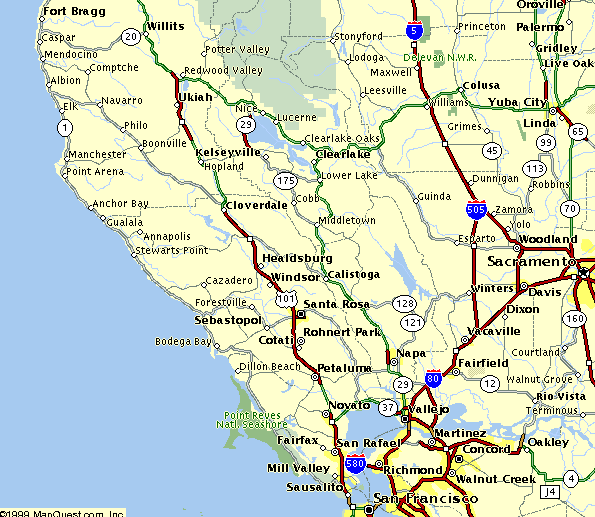 Google maps directions from Oakland airport to Mendocino Woodlands

Driving: As you can see, driving to Mendocino involves getting yourself onto Highway 101 headed north, and then cutting over to the coast at some point.

Getting to 101 from the San Francisco airport: Just follow the signs. The airport is right on 101. You'll have to drive through San Francisco on city streets, but it's well marked all the way. You'll be driving over the Golden Gate Bridge, and some of the signs might say that, or "101 North," or something about Eureka. They all mean the same thing. Don't worry about toll, you don't have to pay when you're going north.

Getting to 101 from the Oakland airport: Getting to 101 from the Oakland airport: Follow the signs for Berkeley, which will put you on Interstate 880 headed north. When you get into downtown Oakland, do not exit onto the I-980 freeway; instead, stay in one of the three left lanes and follow the signs for Berkeley and Sacramento. Then stay in the right lane and continue following the Berkeley and Sacramento signs in order to avoid exiting onto the Bay Bridge for San Francisco. After you pass all the Berkeley exits, take the Interstate 580 West exit marked "San Rafael Bridge" (or possibly just "San Rafael"). This will, predictably enough, take you across a bridge. The toll is $3. Once you're on the other side of the bridge, stay on I-580 to the end, and you will automatically be put onto US 101 North. (There's an earlier exit for US 101 South. No no no.)

Getting to Mendocino: Depending on your schedule, your interest in the scenic California coastline, and the strength of your stomach, there are three routes to the coast that you might want to consider:
101 to Santa Rosa, then west through Sebastopol, out to Bodega Bay, and north on Highway 1. The highway is California route 12, though this doesn't show on the map. This is by far the slowest route; allow a good three hours for just the stretch between Bodega Bay and Mendocino, and more if you plan on stopping and looking at the seals or anything. But it's really beautiful. You could stop for lunch at The Tides Wharf restaurant (or another restaurant) in Bodega Bay, where they have great (if somewhat pricey) clam chowder and a nice photo display about Hitchcock's The Birds, which was shot on location there.

101 to Cloverdale, then California route 128 (again, it doesn't show on the map, but trust me) northwest through Boonville. This is a very lovely drive through one of California's prime apple-growing regions, mostly straight and level with a little bit of curvy hill climbing at each end. The Anderson Valley Brewing Company brewpub in Boonville would make a nice lunch stop. Be sure to brush up on your Boontling, a bizarre language spoken in Boonville by people who want to wow the tourists.

101 to Willits, then highway 20 to the coast, then just a tiny bit south on highway 1 to Mendocino. This is by far the fastest route; use it if you're in a hurry. Probably the best choice for a lunch spot would be the Mendocino Brewing Company brewpub in Hopland, home of Red Tail Ale and the first brewpub to open in California after the law changed to allow them. However, eat lightly, because highway 20 is on the twisty side. If you or anyone in your vehicle is prone to carsickness, think long and hard before you take this route, and snag a couple of those little bags from the plane you fly in on. Seriously.
Once you're in Mendocino, you'll want to turn east off Highway 1 (east is the direction that the ocean isn't in) onto Little Lake Road. Here's a map, provided by the nice people that run the camp site, showing you the turns. It's very, very not to scale.

Shuttle services: There's no shuttle to Mendocino, but if you're hooking up with friends or something like that, you might want to take one.

BART: It stands for "Bay Area Rapid Transit," though experienced riders often suspect that the 'R' must stand for something else. You can take it directly from the San Francisco Airport, and there's a shuttle that will take you to it from the Oakland Airport. It goes to quite a lot of places in the Bay Area; talk to whomever you're connecting with about the nearest station. Here's a map, and there's a copy of this in every station and on every train car. Make sure you get on the right line; for example, to get to Orinda station, you'll need to be on the yellow line, and to get to Berkeley you'll need to be on the red or the orange, so if you get on a train on some other line, make sure you transfer at one of the transfer stations. Trains are named after the last station on the line, so, for example, a train on the yellow line will be called a "Pittsburg / Bay Point" train.

Marin County: The best way to get to points in Marin County (San Rafael, Novato, Mill Valley, Larkspur, Corte Madera, just to name a few) is the Marin Airporter. They run only from the San Francisco airport, not Oakland. You catch them right outside baggage claim, on the little island in the middle of the god-awful traffic, by the sign that says "Marin/Sonoma County" next to the large blue pillar that says "Airporters." They have a schedule, and it's probably on their web site, but as a practical matter, if that's what you're going to take, you just go outside after you've collected your bags and sit on a bench and wait. Bring a book.

Sonoma County: Similarly, to get to places like Santa Rosa, Sebastopol, or Petaluma, your best bet is Sonoma County Airport Express. They serve both the San Francisco and Oakland airports. At the San Francisco airport, you catch them in the same place as the Marin Airporter, see above. I'm not entirely sure where you catch them at the Oakland airport, but they do go there. It's not a very big airport, so ask someone.

Other shuttle services: SuperShuttle serves both the San Francisco and Oakland airports. Lorrie's Shuttles serves the San Francisco airport. Call them for more information.


Last revised: March 30, 2004